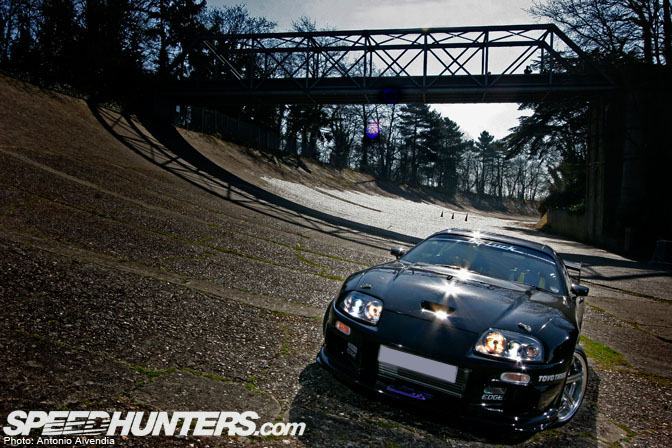 I was quite honored to be given the opportunity to shoot this Do-Luck UK Supra at Brooklands, the first motor racing circuit in the world. I've been to more racetracks across the world than most people, but this was a special thing for me. I mean, I was wheeling my stickered-up lens case around, and standing on the first automotive racetrack in the world. In the world! It was quite an experience for me. I walked up the steep bank (that was kind of difficult!) to take different types of photos of the car, and of the circuit itself. It was a bit of a thoughtful moment for me – I imagined how busy this racetrack once was… and now we were standing on its remnants, shooting a car that you normally wouldn't find racing there – a 1993 JZA80 Toyota Supra turbo! It certainly was an experience to remember.
Just looking at the photo, you can sort of experience what we felt as we were shooting the car. Even though the sun was up, it was cold outside, and we had to take an early morning train ride from London in order to get to Brooklands in time for the shoot. They had a different vintage car event happening that day, and we had to be off the racetrack before the other cars arrived.
I should clarify something. This 1993 Supra Turbo was not built in England; it was actually built in Japan as a demo car during the development of Do-Luck's Aero Wivern aero kit. Although the car usually looks black to the untrained eye, it is actually dark, dark purple. It's hard to notice, but if you look very, very closely, you can see the dark purple hues come out.
So how did this Supra get to the UK you ask? It was imported by Andy Barnes from Sumo Power, one of the UK's leading parts retailers for Japanese cars.
By looking at the front of the car, you can easily see the HKS GT type front mount intercooler peeking from behind the Do-Luck front bumper, and the front of the car certainly stands out from other Supras you may see in the UK, because of the Do-Luck SPL lift-up bonnet (hood).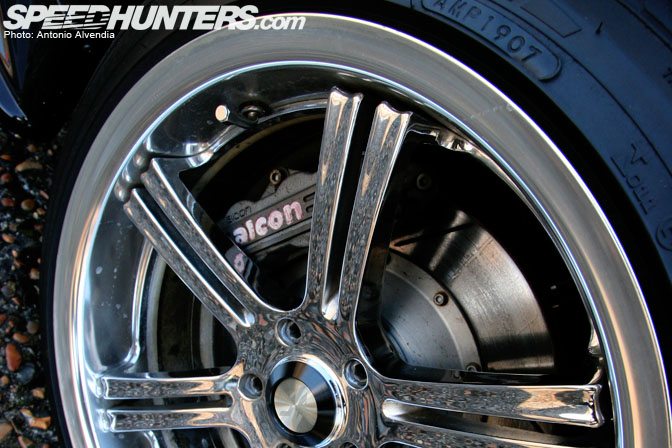 Do-Luck Double Six wheels. The fronts are 18x8J with 245/40/18 Toyo T1R, and the rear is 18×10.5J with 275/35/18 Toyo T1R tires. I like how you can see the high end Alcon brakes through the wheels.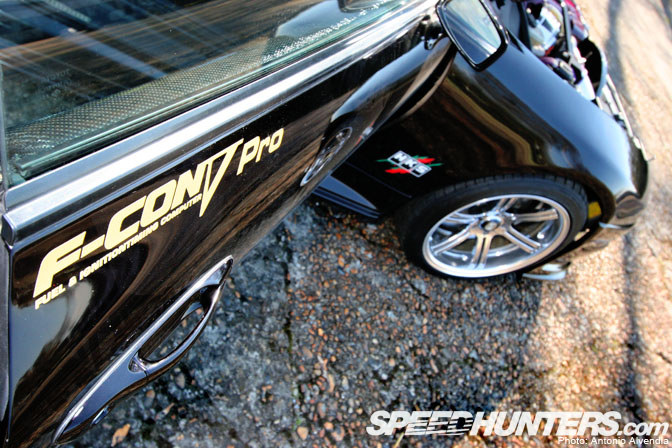 From here you can see a bit more bits & bobs on the Supra. Carbon fiber doorpanel, Do-Luck door mirrors with electric motors, and some well placed HKS decals. I wish the front end was a bit lower though.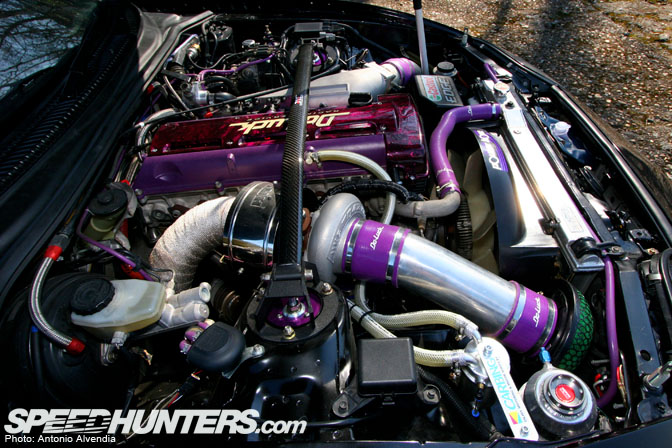 Now this is the heart of the beast. This very impressive looking 3.0 liter 2JZGTE actually has standard internals, aside from an HKS 1.2mm head gasket and HKS camgears and timing belt. Nevertheless, it makes 545 horsepower to the wheels!
Actually, this Supra's engine bay has all sorts of HKS Power parts – T04Z turbo assembly, HKS GT type intercooler and piping, HKS induction funnel, wastegate, SQV blowoff valve, downpipe, exhaust manifold, fuel rail with 680cc injectors, oil cooler kit, 3-bar MAP sensor and air temp sensor. All that stuff was made by HKS! Also an upgraded Nissan 80mm throttle body, GReddy intake plenum, Okada Projects plasma ignition coils, Do-Luck aluminum radiator, alloy overflow tank, and silicon hoses, ARC radiator cap, and a Carbing oil catch can.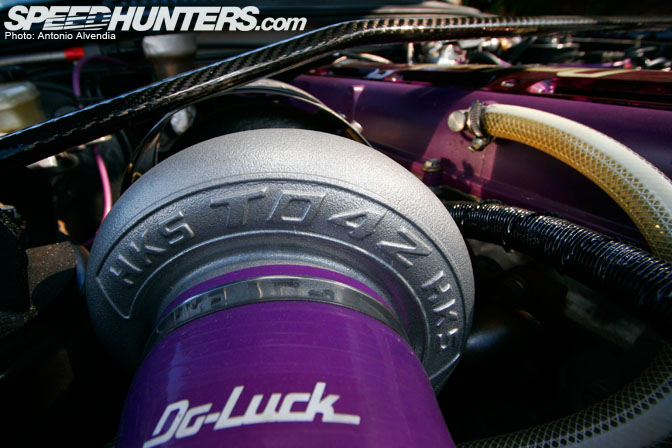 This Supra's 2JZ engine uses an HKS T04Z ball bearing turbo, which was chosen for its responsiveness. This is a pretty expensive turbo… Okay, stop drooling now.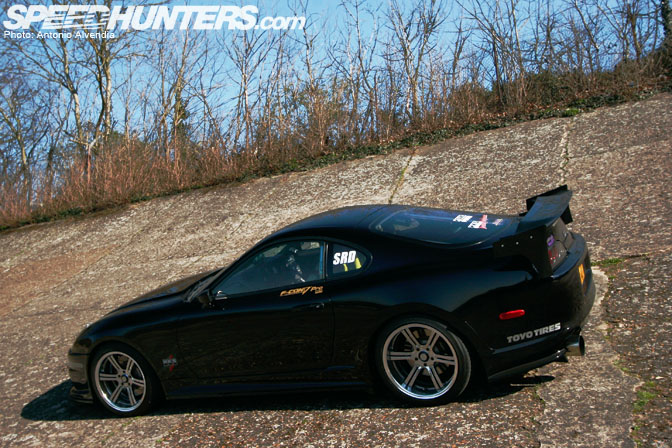 Here's the Supra high up on the Brooklands banking. It appears sleek and menacing, even just sitting there.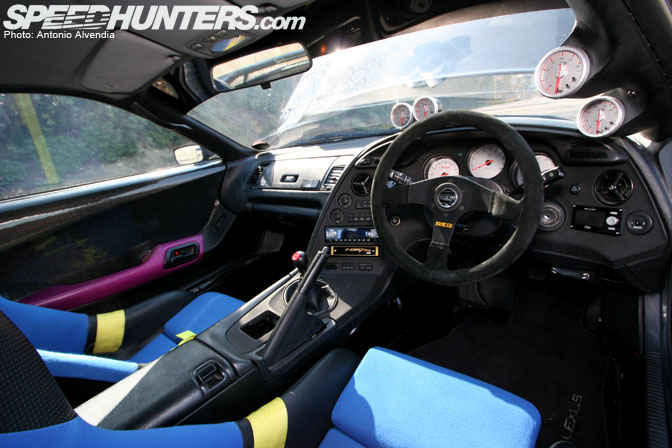 The interior of this car isn't really my style… but if you look inside, you'll notice an HKS F-Con V-Pro ECU, HKS oil temp, water temp, exhaust temp, and boost gauges, HKS EVC controller, not to mention the rare and expensive Do-Luck 320 kmh speedometer and clock set. I wish the steering wheel and shift knob would match… the HKS shift knob fits the car's overall theme, but then the steering wheel is a plane jane Sparco, and the blue/black AAR Paris-Dakar seats with yellow Teamtech harnesses… it's just kind of busy for me, I prefer a more cohesive interior, but that's just me being nitpicky.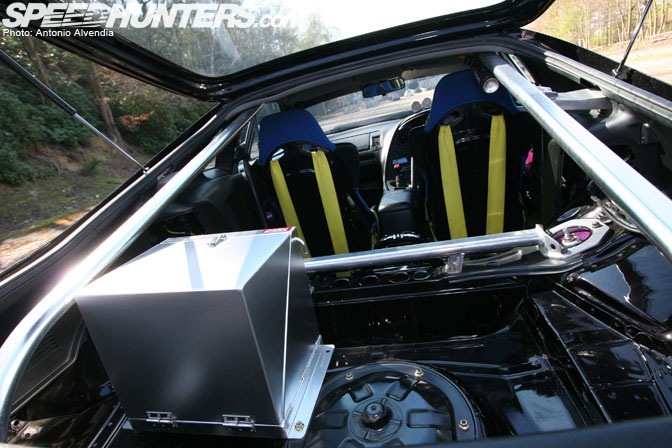 The rear of this Supra has a cool aluminum battery box, and all sorts of interesting looking Do-Luck chassis stiffening braces – rollbar, floor support bar, and rear strut bar. The purple theme is continued with the anodized purple strut tops peeking out from behind the Do-Luck strut bar, which reveal HKS Hipermax II dampers with custom springs.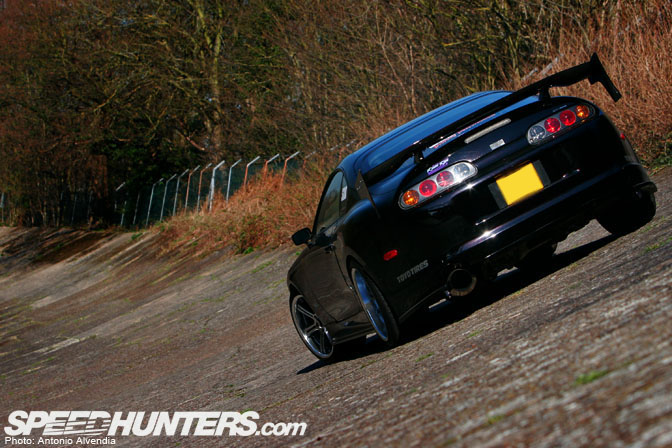 The rear exterior view of this Supra shows off the Do-Luck aero kit, with rear bumper extensions, rear diffuser, sideskirts, and a Do-Luck modified 3D carbon rear wing and uprights on the ends of the wing.
-Antonio Alvendia