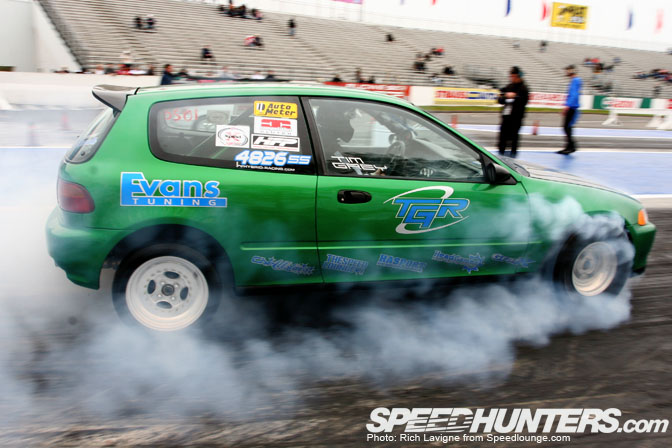 First of all, I really gotta say thank you to my friends Francis and Rich from The Speedlounge for introducing us to Tim Grey, the owner of this green EG Civic drag car you see here. In my opinion, the east coast has always been die hard with drive and dedication to drag racing, and there are so many privateers out there in the east coast that put down consistent timeslips that really give the pro "full sponsored" guys a run for their money.
One such guy is Tim Grey, who's showing people what New Jersey Drive is all about. When Tim busts out onto the track, you can almost hear the skratching and hip hop track from Blahzay Blahzay, "when the east is in the house… oh my God… DANGER!"
This being said, Tim is currently the Pure Street Class points leader in the NOPI (sanctioned by NHRA) Drag Series (current as of 06/04/2008), with a best E/T of 10.97 at 124 miles per hour!!!
His car is just as clean as it is fast – Tim's EG won the Best Appearing Car Award at the 2007 NHRA Fall Nationals at Englishtown, and had very successful 2006 season, including 1st Place at the 2006 NHRA Fall Nationals, which helped him achieve the 2nd Place points finish in the NHRA Street Stock class in 2006. All of Tim's hard work on his EG even landed his car on ESPN's drag coverage of the NHRA Fall Nationals! Not too shabby!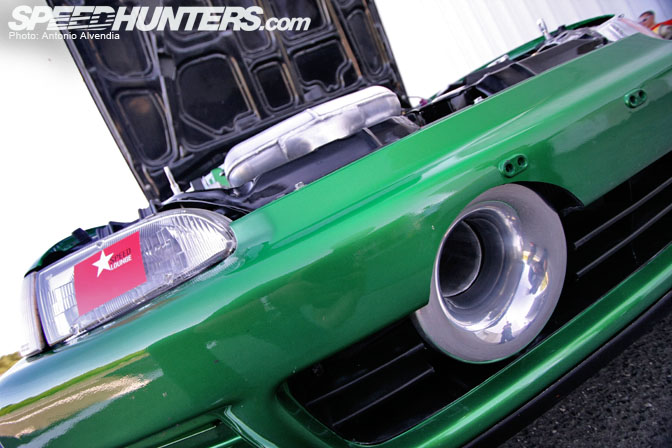 Check out this humongous air funnel implanted in the front of Tim's EG bumper. It's big enough to suck in tons of air, and probably even small animals! Watch out, kids!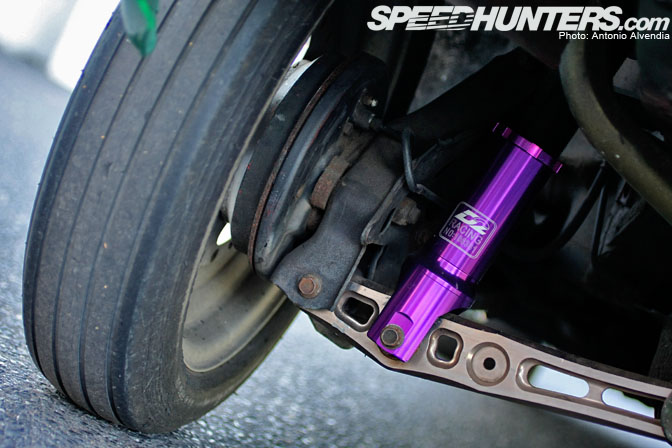 I'm all about suspension, so this was one of the first things I had to check out. After crawling on the ground behind Tim's car, I discovered it had coilovers from D2 Racing, an Energy Suspension bushing kit, and an SPC camber kit. Nothing too super crazy, but it gets the job done, as you can see from all of Tim's accomplishments.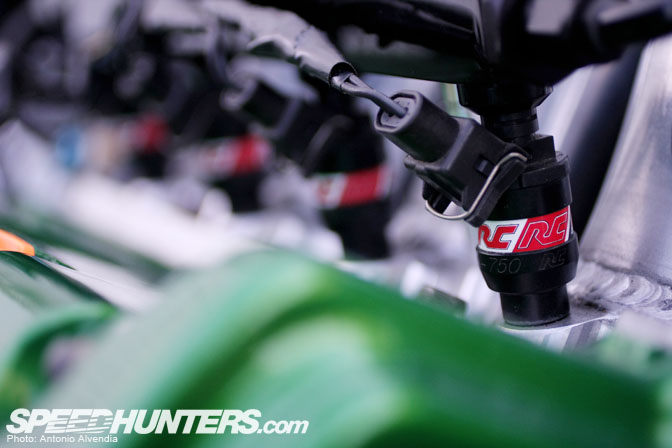 RC Engineering injectors keep the engine's thirst satisfied! But since you may want to see how this all fits together, let's zoom out a bit, so you can see the complete setup.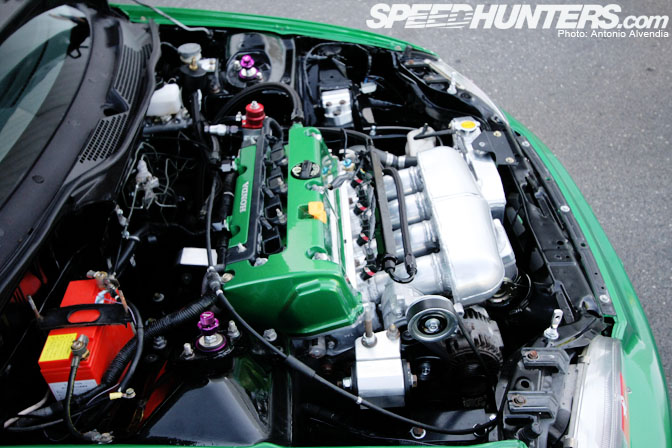 From
this photo, you can see the smaller, lightweight battery in the corner,
as well as the adjustment knobs of the D2 suspension, and the Golden
Eagle fuel rail (black) which works with the RC Engineering injectors to keep Tim's engine fed.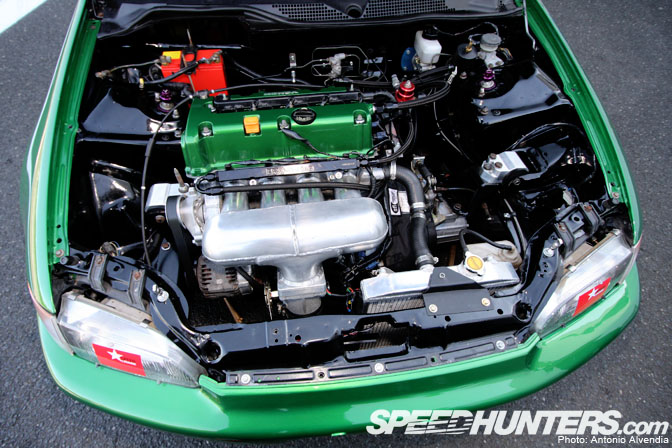 Interested in the specs of Tim's K24 engine?
K24A4 Accord block with 14.5:1 JE Pistons (Damnnnn!!! That is some super high compression!), Cunningham connecting rods, K24A2 TSX crankshaft.
K20A2 RSX Type S cylinder head, ported and polished by Headgames Motorworks, with Ferrea stainless steel stock size valves, Supertech valve springs and retainers, IPS K-10 camshafts, Edelbrock 75mm throttle body, AFI intake manifold, and an SSR big tube race header. (No, it's not the same SSR that makes wheels)
Drivetrain consists of a Competition twin disc clutch, K20A3 transmission casing with K24A2 gearing, Quaife LSD, and DSS axles.
Engine Management is a Hondata K Pro, tuned by Jeff Evans. Oh and let's not forget the 3 inch custom aluminum exhaust from Vibrant Muffler.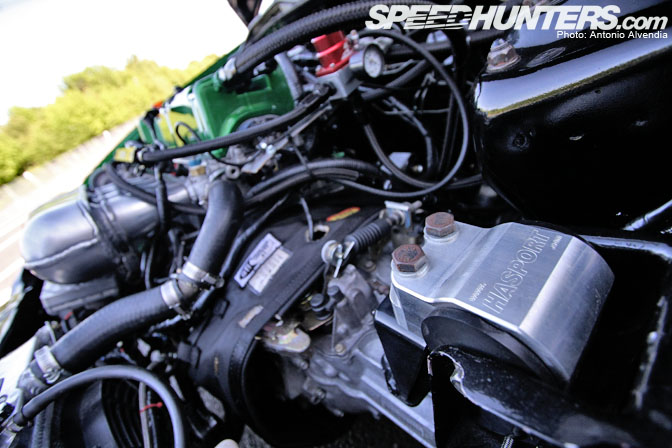 Hasport engine mounts seem to be very popular with Honda guys… however, not too commonly seen is the Deist transmission blanket, which protects the driver from being the victim of a shrapnel attack in case the transmission or Quaife gear type Limited Slip Differential were to ever break and/or explode.
(Note: Another option which is safer, but a lot more expensive than the tranny blanket – a Kaaz or other brand clutch-type LSD could be used. When the clutch type LSD breaks, only the clutch plates will break, and remain safely inside the LSD housing (pumpkin). Whereas if a gear-type LSD breaks, there is nowhere for the broken gears to go, so the thing usually explodes (especially since this usually happens at high rpm). Just a thought.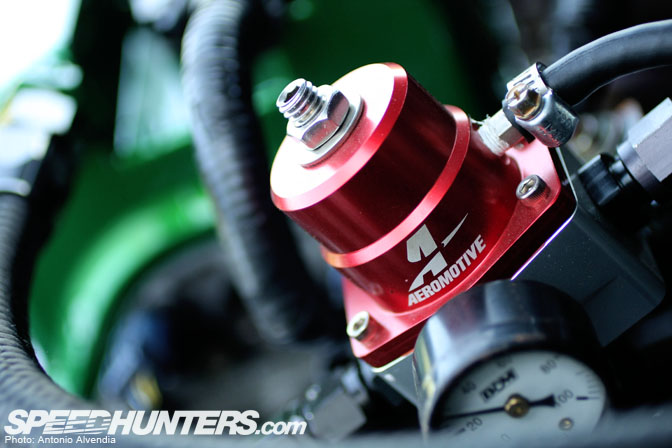 I don't have anything super important to say here, I just thought the photo of this fuel pressure regulator looked cool.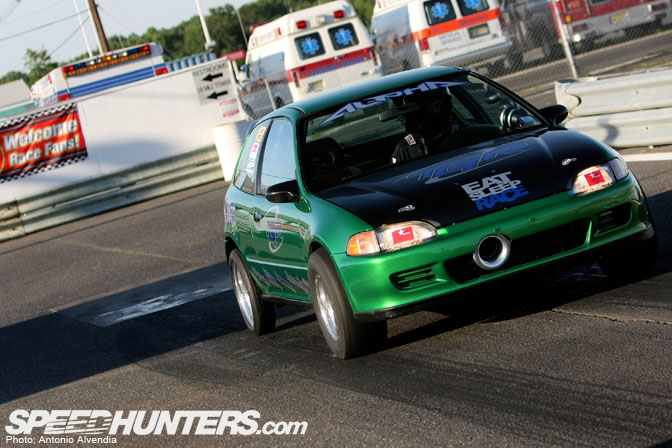 Since they were doing maintenance on Englishtown's main 1/4 mile dragstrip at the time of this photo shoot, we decided to head to the 1/8 mile strip to take photos of Tim doing some passes. I like the lightweight side mirrors (Vision?) on Tim's car, it makes the whole car look closer to modified street car spec, even though it's actually a 10 second drag monster!
Just imagine how crazy it would look if Tim put some black Regamaster Evos or Mugen RNRs on this car and drove it down the street!!! Wouldn't you be trippin if you saw this green Civic hurtling toward you at light speed, especially with the humongous polished "bird catcher" funnel up front? Come on!!!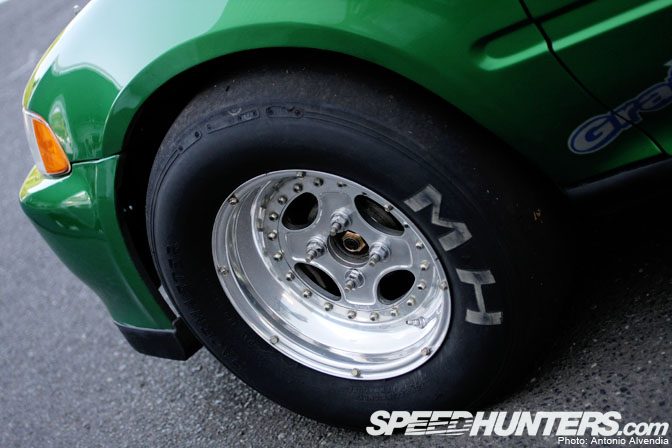 SSR Mark IIs anyone? Nahh just kidding! These are 13×8 Bogart Pro 4's up front, with 15×3.5 Bogart skinnies in the rear (WOWWW 15×3.5?! Is it just me, or does that sound crazy?). In this photo, you can see the M&H Racemaster drag slicks, which are sized 24.5 x 13 x 8.5.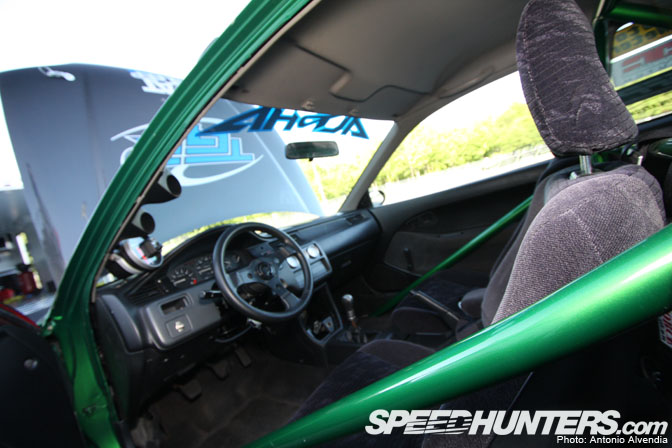 Check out the custom cage in Tim's Civic. I was surprised that his car is running stock seats, and not even lightweight carbon or FRP racing seats! Not to mention, he didn't give in to the JDM Honda fad of buying green Takata harnesses, even though they would perfectly match his car! Haha!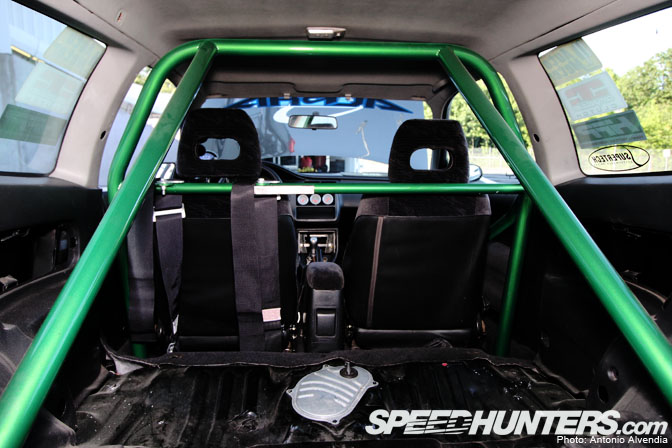 All business inside here. No rear seats, but it still has carpet and normal OEM front seats!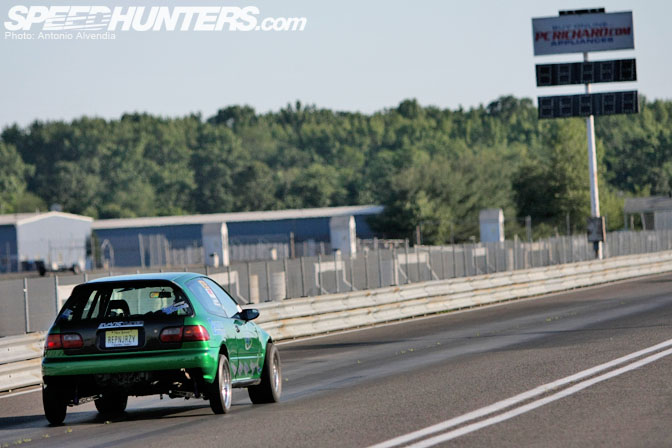 Check out Tim's license plate… he's reppin Jersey no doubt! Keep an eye out for this kid at the track! And cover your ears as he passes you.
-Antonio Alvendia