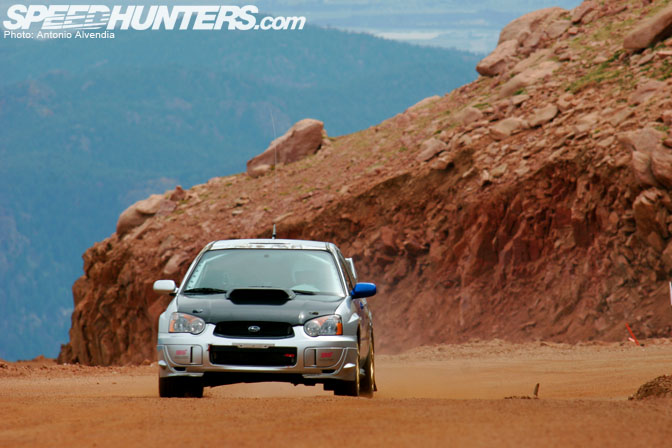 Who likes to watch rally like I do? It's that time of year again… the Pike's Peak International Hillclimb in Colorado is about a month and a half away. Since I was looking through my hard drives for some photos, I decided to dig up and share some of these Pike's Peak rally photos I shot.
In 2005, I got to go back to Pike's Peak in Colorado to shoot part of the historic hillclimb event. It was my second time at the famous "Race to the Clouds," and I was super excited to shoot some photos of the event! The first time I went to Pike's Peak, I was taking photos from a helicopter and almost plummeted to my death while trying to take a pic of Yoshinori Koguchi drifting up the tarmac portion of Pike's Peak.
See, I was hanging out the side of the helicopter "Vietnam style," with my feet dangling and all… and as we were high above the mountain, all of a sudden, the sheisty "lap belt" came loose while I was shooting photos!!! Thank God I had my arm wrapped around the helicopter's "oh ____" handle or else the spectators at Pike's Peak would have seen my Gore-tex North Face jacket, Timberlands, and a Canon camera smash into the ground from above, which would have been unfortunate, because something like that would delay the race for sure.
Oh well, even though I was certainly all "shook" after that event (I spent at least 45 minutes after that helicopter flight coughing up all the contents of my stomach on the ground, and still don't like heights to this day for that reason), at least I was able to get some cool photos out of that experience that made it into my hardcover book on Drifting.
Anyway, I thought I'd share some more photos I shot at the race. One of my favs is the photo above, of the silver Subaru Impreza WRX STi rally car, which has a mismatched mirror for some reason..? I love this pic because it really shows the conditions of the dirt road going up Pike's Peak, and then straight up sky.
We were 14,400 feet above sea level! Do you realize how ridiculously high that is? It was hard to breathe up there sometimes, and when I got to the top of the mountain to get a good view of the surrounding mountains, I could see clouds below me!!!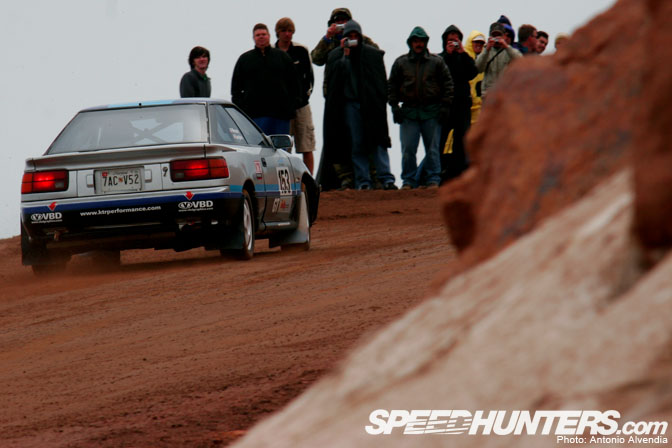 I was super happy to see this 1988 (or 89) ST165 Celica All-Trac Turbo competing in the legendary hillclimb. This particular car was from Maryland. It reminded me of my first car, even though mine was a gutless front wheel drive. Oh well, at least it had cool wheels on it, even though it was slow as molasses.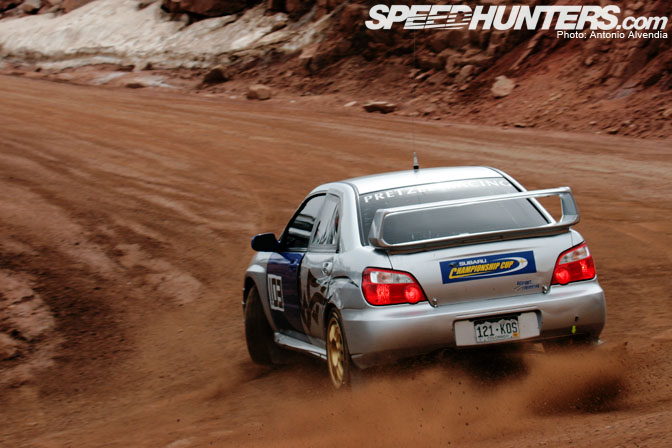 This Subaru Impreza has the right idea! At first, I liked how the driver flicked the car sideways as he was going up the corner, until I realized all those rocks and dirt and debris were headed right for my Canon lens! Oh hell no!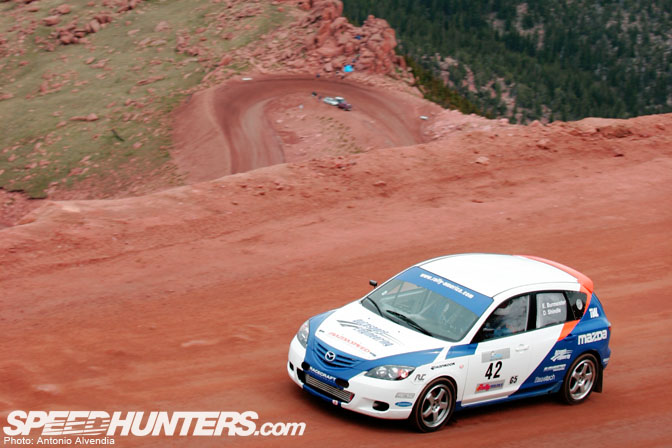 Mazda actually had a factory backed effort at Pike's Peak! You never know what kind of cars you'll see competing for time on this famous hillclimb! I can't wait to get back there to shoot again.
What do you guys think? Any interest in seeing some more rally content from the Speedhunters crew? (Hehe, as if we weren't already slammed with content to produce) Hit me up and let me know!
-Antonio Alvendia