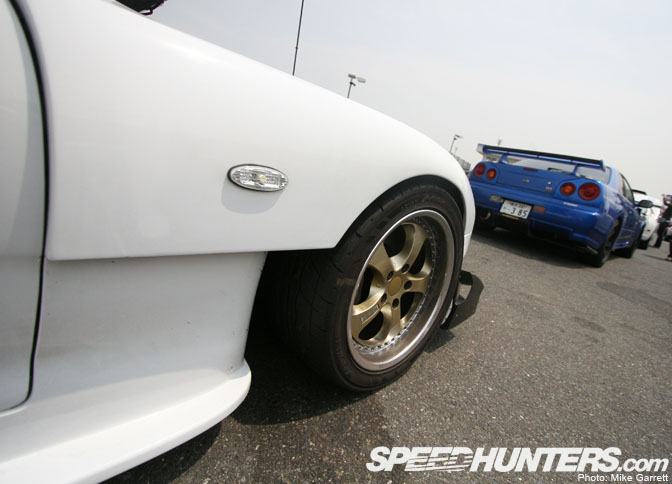 Our mission with Speedhunters is to show all types of automotive lifestyle around the world, and while we love the professional motorsports scene as much as anyone, we also want show things from a more grassroots level. I love to watch the "big guys" ,but sometimes It can be just as interesting to see what the "little guys" are up to. Today, I headed out to Tsukuba Circuit for the purpose of documenting a typical Japanese circuit day, and more specifically, the type of cars seen at these events.
In Japan, a standard track day is known as a soukoukai, which roughly translates to "free driving meet". Soukoukai events are held at every circuit in Japan, and one thing I find interesting about them is that they are held seven days a week. Standard track meetings are often held during the middle of the week, as the weekends are often reserved for larger big events and races. I guess the drivers are playing hooky from work while tearing up the track.
Today's event brought a nice mixture of cars and provided a good sampling of a typical soukoukai lineup. Here is an idea of what can be seen at Tsukuba on any given day-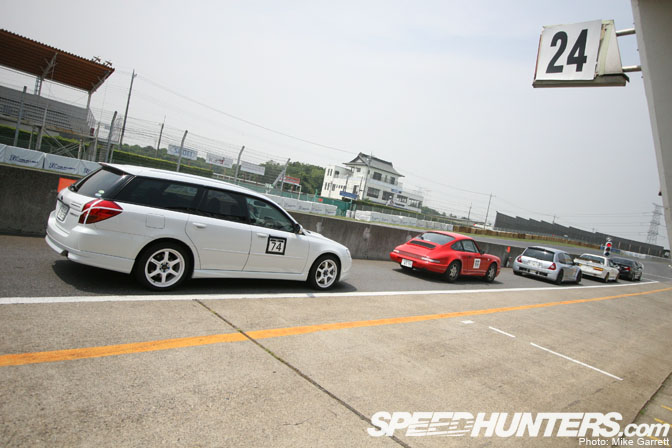 This shows the variety of cars that these events draw. These cars were in the class that caters to lightly modified cars and drivers that might not have a ton of track driving experience. Drive to the track, tape up your lights, and go at it!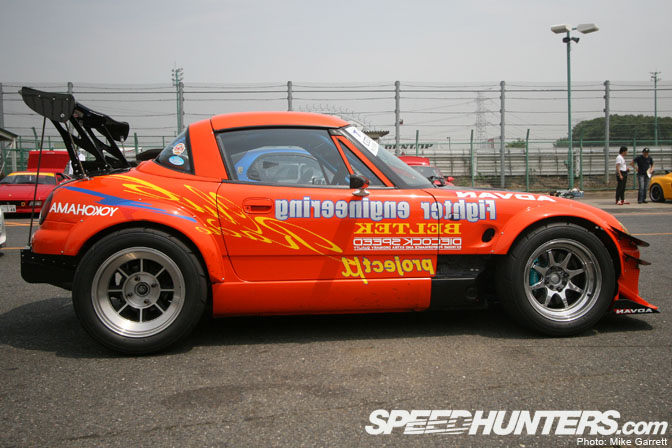 At the other end of the spectrum you will also see dedicated track cars like this one, a Suzuki Cappuccino built by Fighter Engineering. This is the most macho looking Cappuccino I have ever seen. It might be hard to tell in the photo, but these cars are tiny. A first generation Mazda Roadster is large in comparison.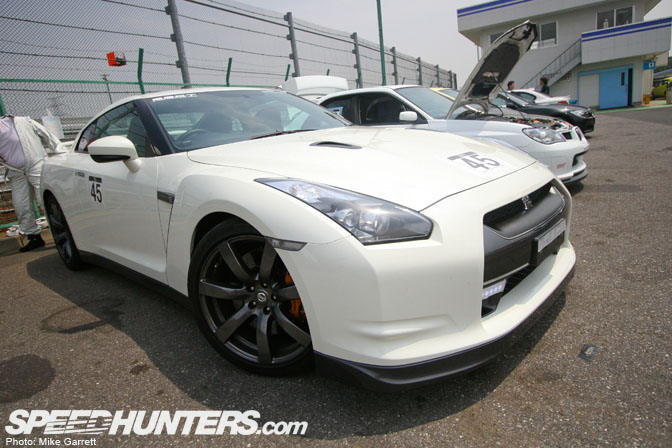 Up until recently, when a new GT-R showed up at the track, there would be crowds around it all day long. Now that the initial hype is starting to wear off a little, you can finally get close to one without blocking somebody else's camera phone picture.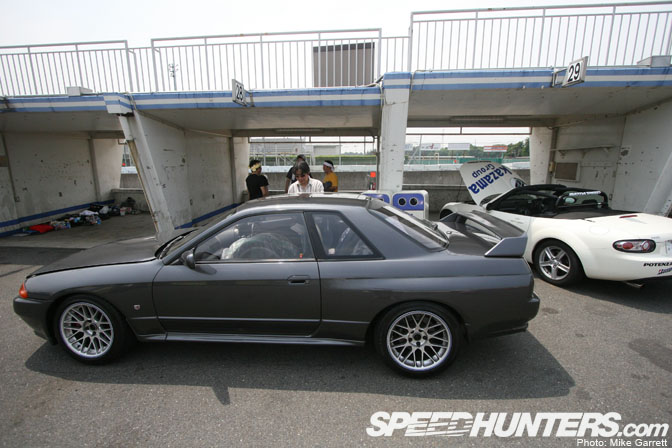 Speaking of GT-R's, here is the tried and true BNR32 model. I can't believe that the R32 GT-R is soon going to be 20 years old. When these things came out, they were the most high tech cars around, but the R35's complexity makes them seem simple in comparison. If you look inside, you can see a spare set of wheels and tires jammed into into the passenger area. Like most cars at these events, this one is driven to and from the circuit.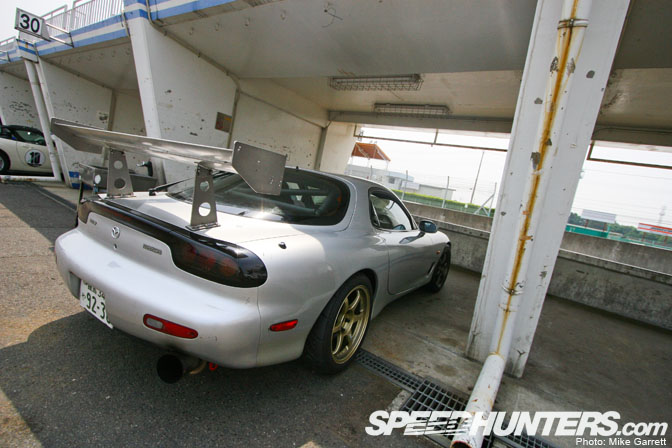 I think there have been at least five FD RX7's at every Japanese track day I have ever been to. At first I was surprised to see so many RX7's being used by privateers, but then I remembered that they were sold in Japan until the early 2000's, making them much more common than in the United States.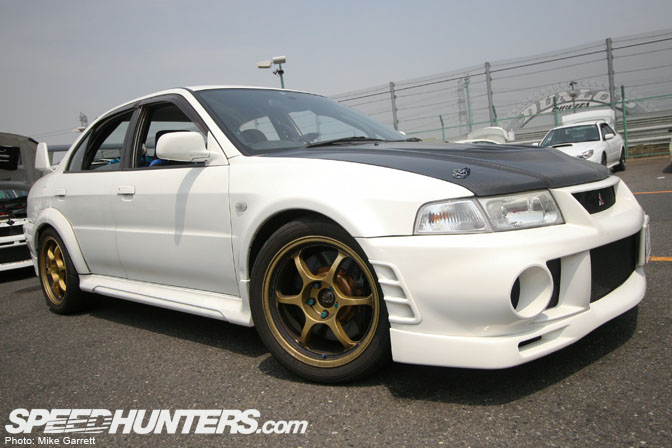 You can't talk about a Japanese track day without mentioning the Evo and Impreza. Even though all the buzz is about the new models, the older cars like this one are still very common at track meets. This Evo is sporting all the basic track car modifications, a roll cage, upgraded brakes, and most importantly a set of sticky "S tires".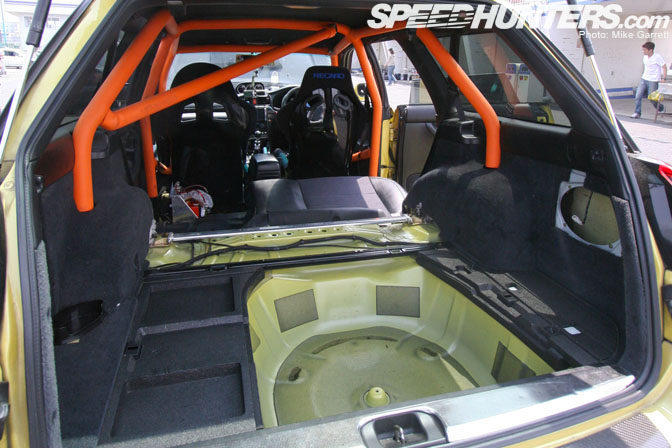 While on the subject of track modifications, check out the interior of this Legacy Wagon. Full cage, a pair of fixed back bucket seats, and a relocated battery. This is not quite your typical station wagon. As you can guess, it was hauling around the course.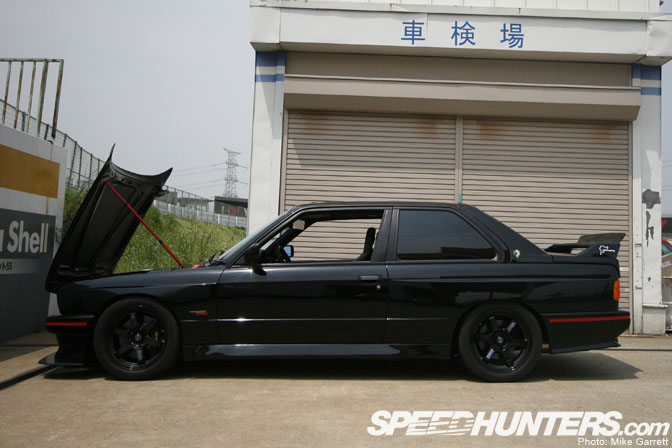 Sinister-looking E30 BMW M3 taking a break from a long day of tracking. E30 M3's have an a universal appeal. Now that it comes to mind, I don't think I have ever met anyone who doesn't like these cars. Am I right?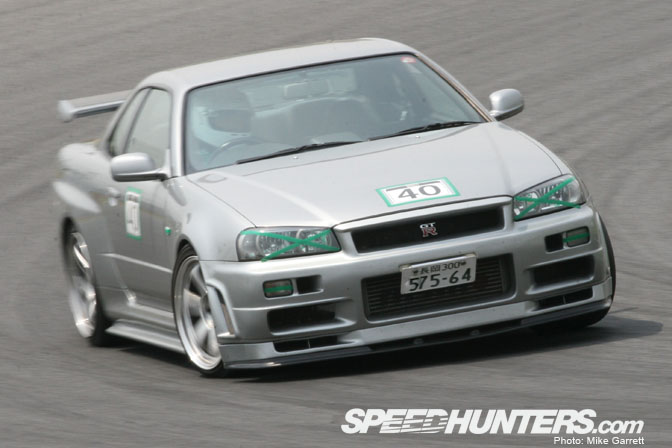 Another icon of the circuit, the  BNR34 Skyline GT-R. With the exception of the earliest models, the entire GT-R family tree could be seen at the track today. There were three R32's, two R33's, three R34's, and two R35's.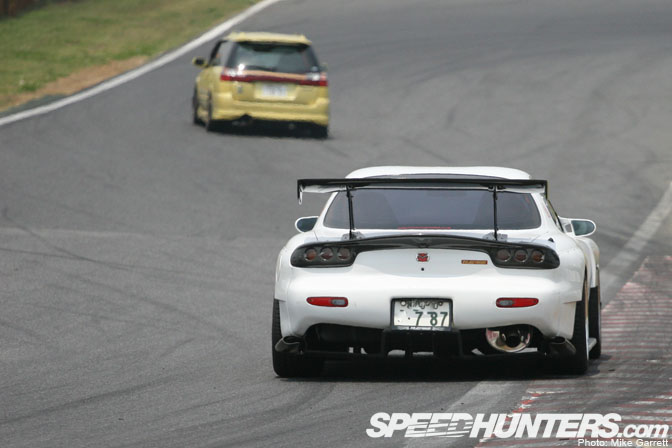 Fully tuned FD chasing a fully tuned Legacy. Ah yes, just another Thursday at Tsukuba.
Check out these links for more on Japanese track meetings-
-Mike Garrett