This weekend, my friend Tobin and I drove up to Northern California for the second annual Motoring J Style event. It was a rough drive! We had to brave the rain, tornadoes, and LA rush hour traffic (which added 4 hours to our trip), before making the 6 hour drive to San Francisco. However, our purpose for going to Motoring J Style wasn't for taking photos; we were the official emcees of the event! You know me though, even though I was busy with duties as Motoring J Style's official announcer, I had to stop every now and then to snap a couple photos! (Big thanks to EXE Life Prashant for lending me his Canon digital SLR, so I could take photos!)
Motoring J Style was an awesome event – there were so many incredible vintage Japanese cars present, and just the right mix of stylish newer Japanese cars in attendance. I was impressed that the organizer, David Swig, was able to successfully pull off such a classy event that bridged the gap between the older car owners and the youth automotive audience. Car owners and showgoers had the opportunity to walk through several lawns of vintage Japanese cars and tastefully modified newer Japanese cars at the event. The environment had kind of a family atmosphere; it seemed like there were many groups of good friends circulating around, meeting each other and checking out each other's cars.
For some of the vintage car owners, it was the first time they had seen drifting in real life – many of them commented on how fun and exciting it was. On the other hand, alot of the younger demographic who came to see the drifting event managed my the Drift Day Norcal staff, also were attracted to the cool nostalgic look of some of the vintage Japanese cars!
Nissan North America had a presence at the event, debuting their new GTR at the show. Scion, Lexus, and Toyota had a huge corporate presence at the event as well, with several of their famous 5Axis show cars (5Axis Scion XB DJ booth, Lexus ISF 5Axis concept, and others!), and autograph session with Troy Sumitomo of 5Axis, and cool giveaways of course!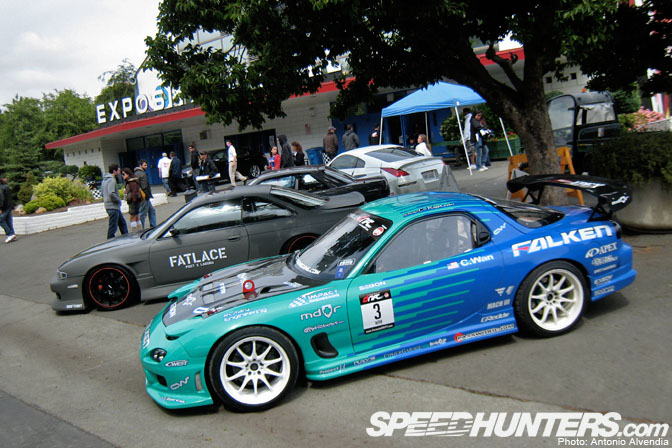 Aside from judging the drifting competition, Calvin Wan trailered his personally owned FD3S RX-7 out to the MJS event, to represent for his Bay Area sponsors like MD-R and Impact Engineering, not to mention Falken Tires and the Speedhunters crew! He even brought it out on the track for a few runs in between run groups of the drifting competition! Behind Calvin's FD are Mark Fatlace's S14, Henry Chan's SuperMade S13, and EXE Prashant's Z33 350Z. These cars served as a good example of tastefully modified newer cars, and attracted a ton of attention from old and young spectators, because of their fashionable style and aggressive stance.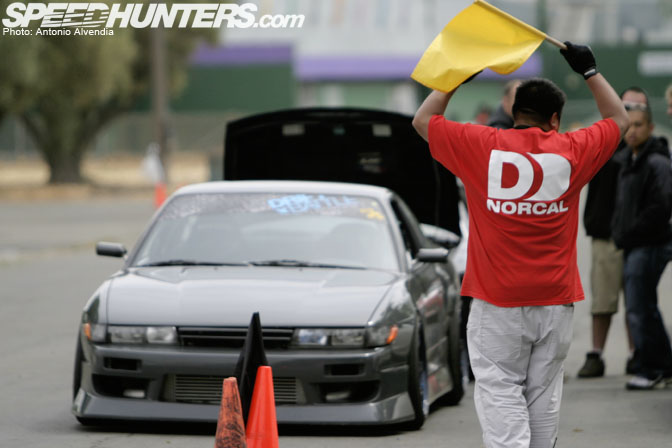 The Drift Day Norcal staff has to be commended on their hard work and dedication – they set up the course early in the morning rain, and did a great job of running the drifting competition! Everyone worked so hard to run the event safely, while ensuring that the drivers had alot of track time.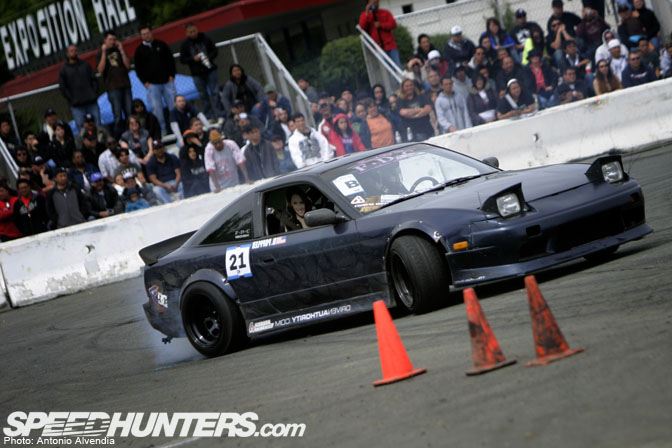 This RPS13 driven by Drew Poppler showed off its aggressive street drifting style during the Motoring J Style drift competition , but my favorite part of the car was his "cardboard girlfriend" in the passenger seat! Hilarious!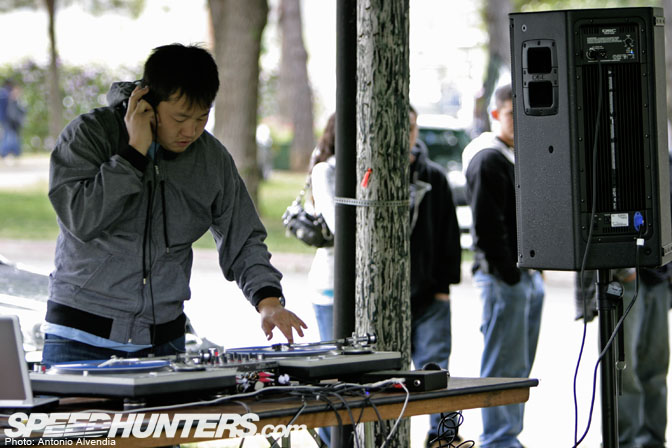 San Francisco-based underground hip hop artist/producer Kero One had just returned from performing in Europe, Japan, Korea, Taiwan, and the Philippines just in time to attend the Motoring J Style event. Kero and DJ Mosquitoo from Plug Label had both old schoolers and young car enthusiasts grooving to the soul, funk, and hip hop beats they were spinning.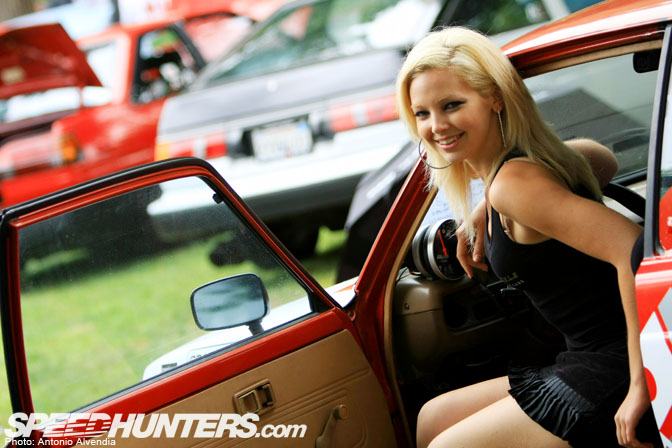 She told me about 3 times, but I still don't remember her name (I'm sorry! You have to email me!), but this MJS model was super sweet – great personality! Almost immediately after she finished checking out the SF Region SCCA's points leading KP61 Starlet widebody, all the old Filipinos at the event swarmed around her, taking photos with their small digital cameras and cellphones.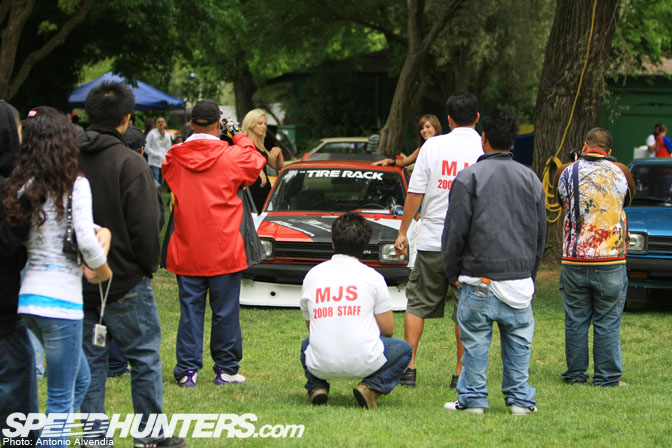 See? I wasn't joking. I thought it was pretty funny!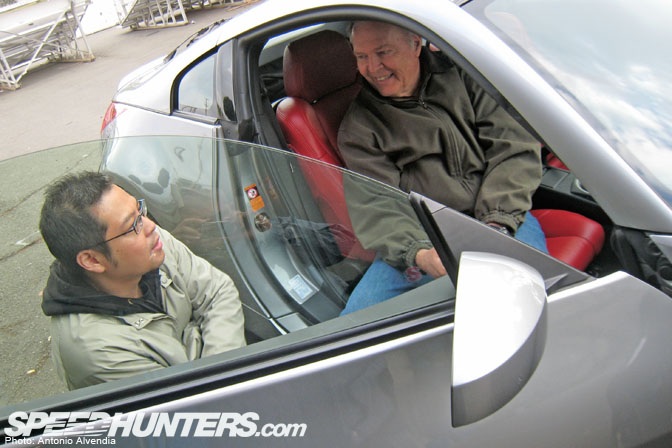 Datsun racing legend Peter Brock and the original members from his legendary BRE racing team (the team that made Datsun 510s legendary in the SCCA 2.5 liter challenge in the later sixties and early seventies) treated MJS attendees with an incredible theater-style presentation in one of the event halls, which showcased rare and unseen photographs and information from the team's racing years. Brock is seen here talking to San Francisco-based automotive sociologist Ricky Silverio about the old days of SCCA racing and Brock's current projects, right after he finished signing the center console of Ricky's Z33 350Z.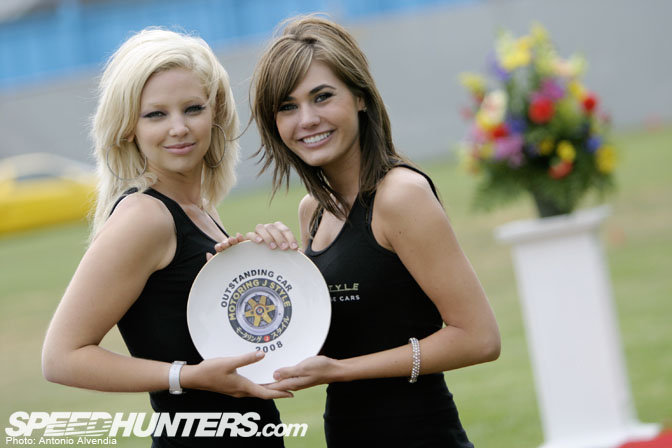 At the MJS awards ceremony, the winners of the car show drove their cars up a red carpet procession to receive their awards from the Motoring J Style models, while introducing themselves and their cars to the audience, sitting in the grandstands.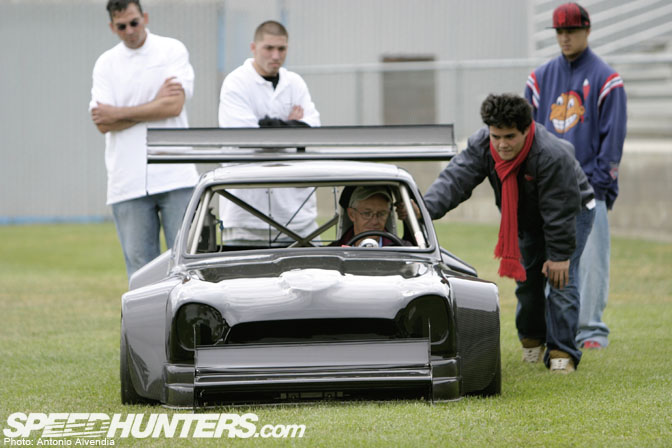 Stay tuned in to Speedhunters for a full feature on this incredible fully carbon fiber bodied Honda!
-Antonio Alvendia