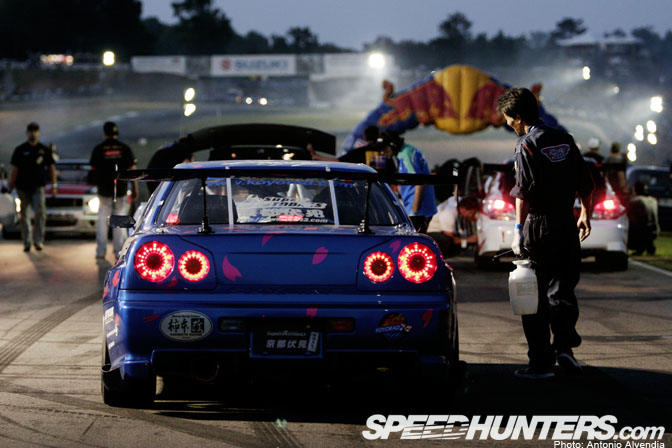 I won't be listing the Formula D points standing on this page. Look elsewhere for that. This page, I'm dedicating to random photos of the cars and the action at Formula D Atlanta. If you're looking for points scores, ladders, and play by play photos, you need to go to another website for that. If you are more interested in dramatic photos that capture the essence of Formula D, this series is for you. Enjoy!
Above, Michihiro Takatori from Kansai drift team Heaven and his mechanic prepare for a practice run on the Friday night before the event. I love those R34 LED taillamps. Sick.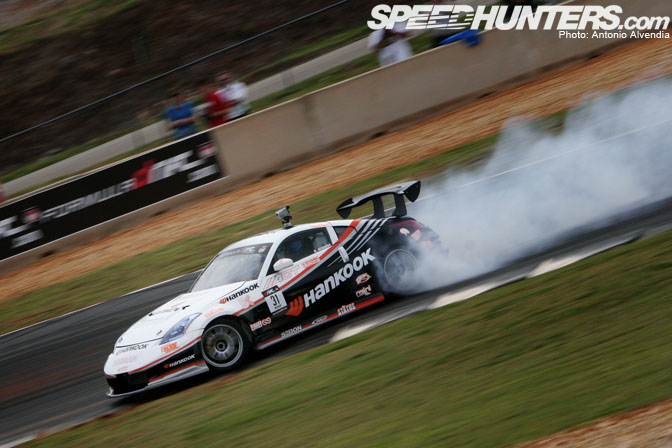 Robbie Nishida, an AE86 driver from Yokota drift team Hey Man was killing it, accelerating back up Road Atlanta's steep hill in his new Hankook/Peak Performance Z33 350Z. Good job Dynamic Autosports staff! You got it dialed in finally, and it's making big smoke!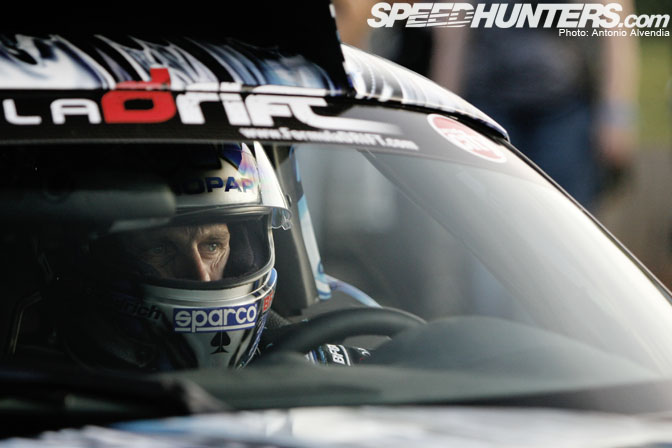 Samuel Hubinette is all business and all concentration when he's strapped into the cockpit of his Mopar Viper. Ready for launch!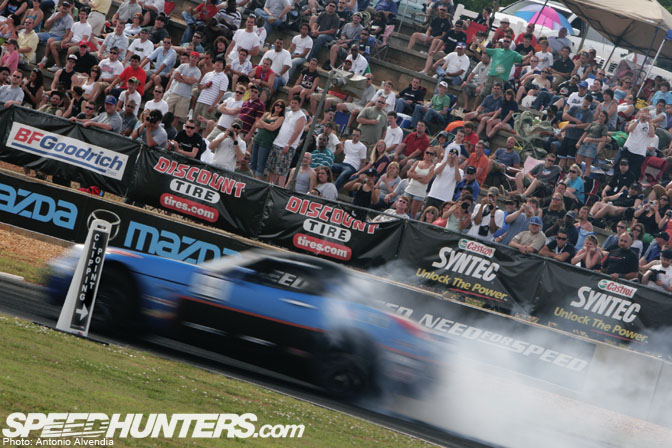 Drivers need to hit this clipping point as they exit Road Atlanta's horseshoe and return back up the hill.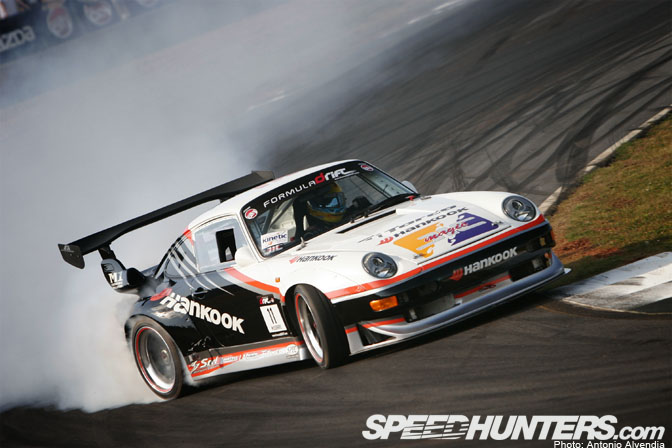 Infineon Raceway driving instructor Tyler McQuarrie just makes his Hankook/JIC Magic Porsche look sooo cool when it's drifting like that!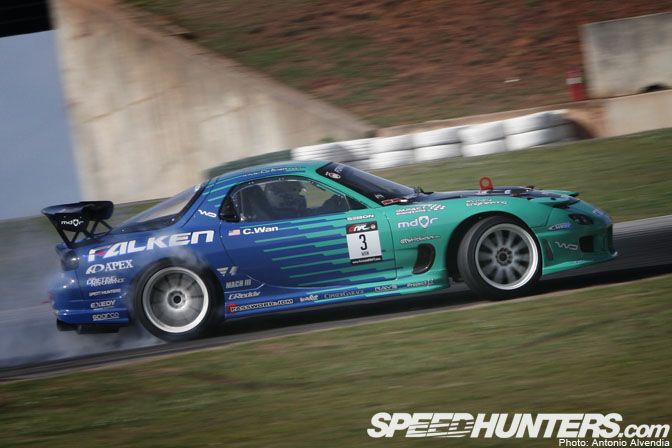 Calvin Wan is down with us. Calvin was the first driver to put a Speedhunters logo on his car! To show his support and loyalty to his title sponsor, Falken, he wrapped his personally owned white FD3S in Falken's signature teal and blue. You can see ithe Speedhunters logo on the rear panel of the car, right underneath his Formula D Team Drift logo, Team Drifting Performance. I can't wait to see how he does once his FD has more power, and its new aero kit installed. The current "time attack" style aero kit makes the car look too high.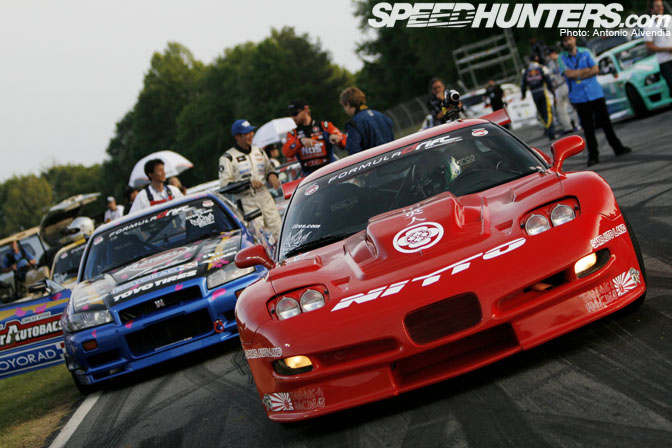 Conrad Grunewald's Corvette looks soo menacing and aggressive, even when it's parked next to the Super Autobacs R34 Skyline GT-R.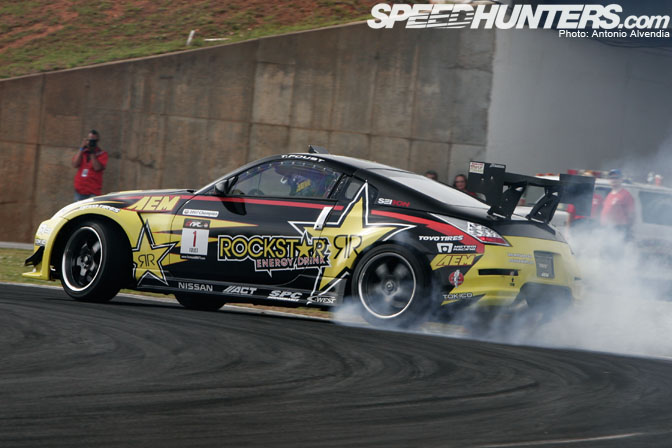 X-Games champion, stunt driver, television host, Formula D Championship winner, roommate to Rhys Millen, and overall rockstar Tanner Foust was handling business with his AEM 350Z. Clean and consistent.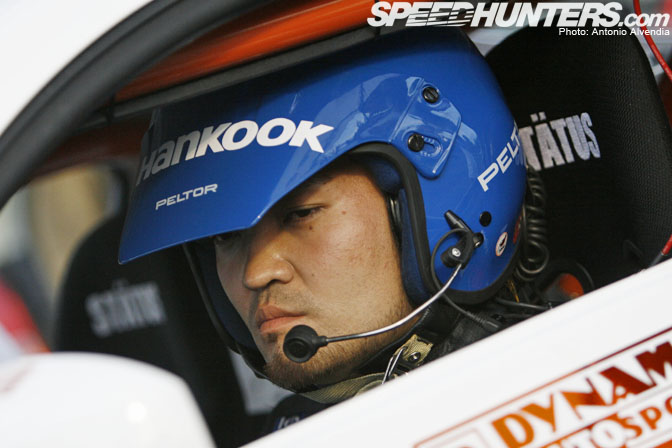 Robbie Nishida looks noticeably annoyed as he looks in his rearview mirror, waiting on grid. I love his Peltor helmet with the visor, it looks sooo cool! WRC style! Looks like those helmets that the Voltron guys or Robotech/Macross pilots wore. Super cool!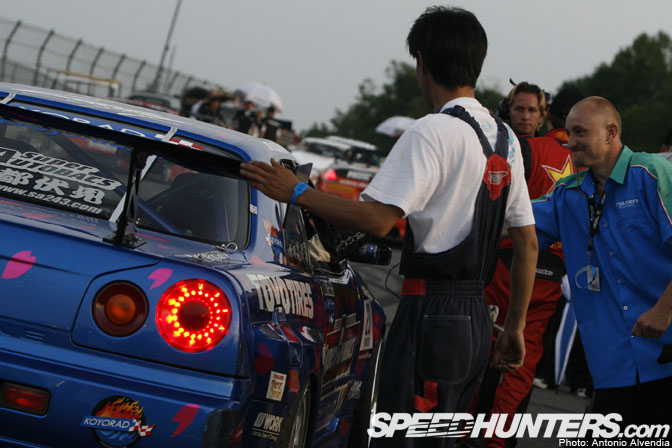 Ross Petty runs up and congratulates his former Falken team mate, Takatori on winning his tandem battle. Falken or Toyo, it doesn't matter. It's all love amongst the true drivers who have drifting in their hearts.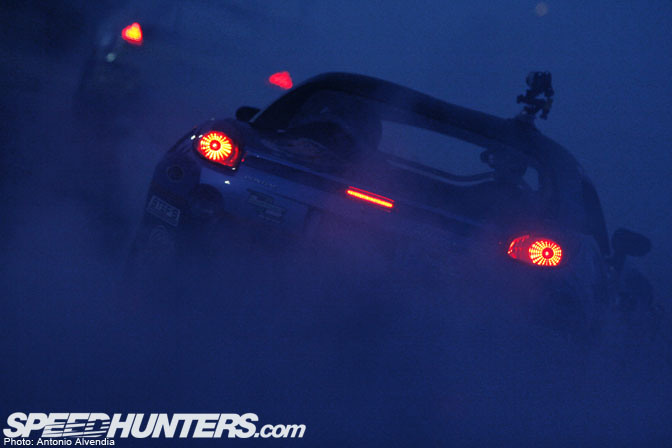 Ryan Tuerck's stock looking Solstice is nothing special to look at in the daytime, but it certainly looks super cool in this pic, as he does his twilight burnout at the top of the hill.
-Antonio Alvendia