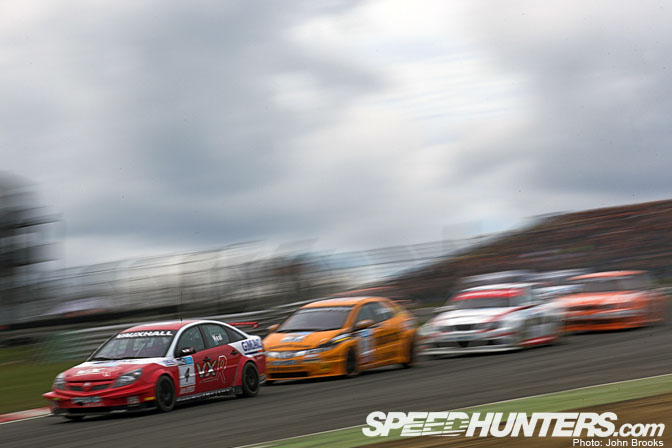 One of the first projects for the Speedhunters team was for top motorsport photographer, John Brooks, to visit the first round the of the British Touring Car Championship. This year is the 50th Anniversary of the 2008 British Touring Car Championship. The series is one of the top tin-top series in the world, following the same FiA regulations as the World Touring Car Championship.  Racing is tight and close with many incidents as shown in many of John's images. Sometimes it does get close to Banger Racing.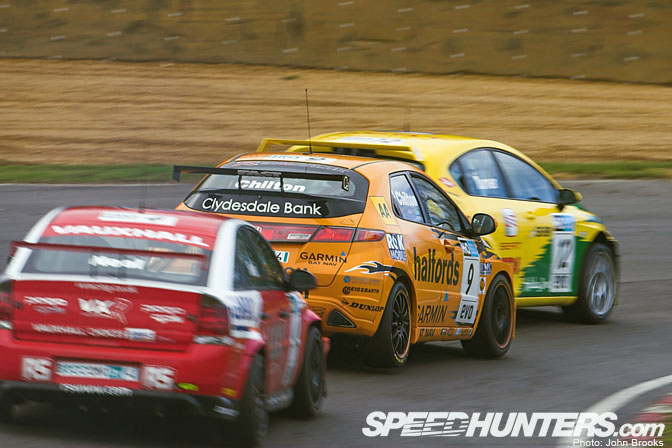 The 2008 season consists of Ten race weekends across Britain.  Each race weekend consists of practice and qualifying on Saturday followed by three races the following day. The results of Race 1 determine the Race 2 grid. To spice things up, a draw takes place to determine the determine a reverse grid.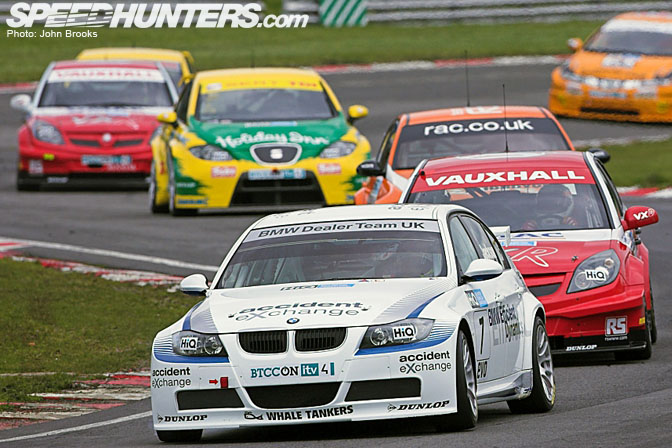 The Opening rounds at Brands Hatch confirmed that a close exciting season was ahead. Mat Jackson (above), in his family run private BMW snatched pole on a drying track, but come race day, current champion, Fabrizio Giovanardi in a Vauxhall Vectra would take Race 1 Mat Jackson has been a real find in BTCC, so keep an eye out for the BMW Dealer Team UK car.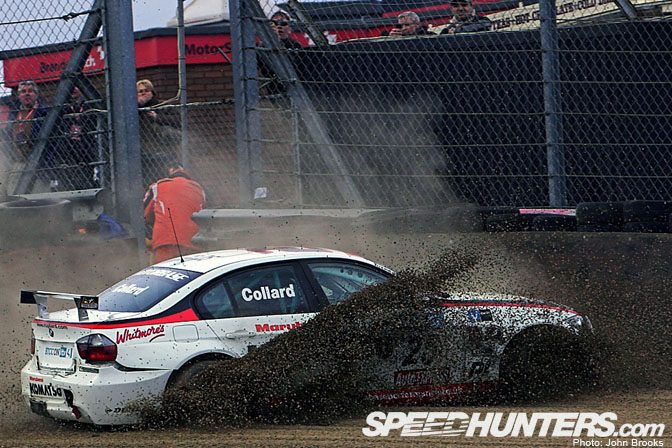 'Gio' won race two as well, despite the rest of the field closing up after the Safety Car was called out, following Rob Collard's spin (see BMW, above).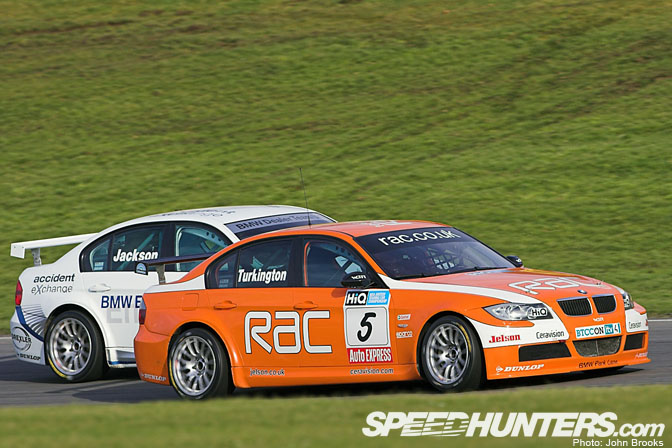 The final race of the day saw a great race win by Colin Turkington in the WSR RAC BMW 320si after battling with Mat Jackson, as shown in the images below. 'Turks' kept his line and pushed Mat wide onto the dusty stuff. Mat had to lift and the Turks took the win. 
Tom Onslow-Cole in another Vauxhall Vectra (see below – they look massive, don't they!) had a massive accident after Gordon Shedden moved over into Jason Plato's path and rebounded back into the Vauxhall's path. A very big accident, but, Tom who was OK. Don't think that will polish out!
A few more rounds have taken place since Brands and the SEAT Leon TDi (below) took its first win at Donington. It marked the first win by a Diesel in the BTCC.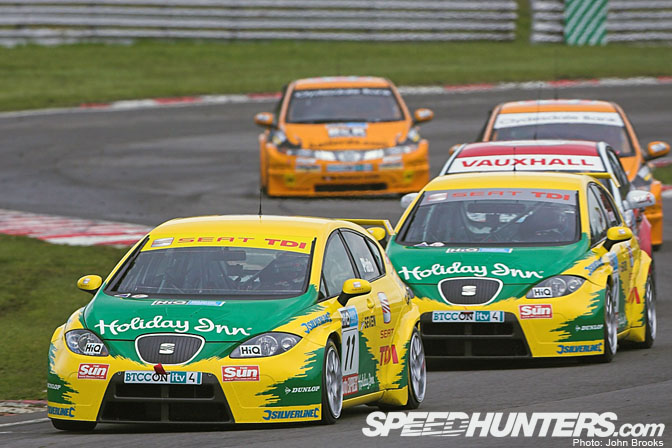 Last weekend, three more rounds took place at my old 'home circuit', Thruxton, a very fast circuit. Tom Onslow-Cole won twice with Jason Plato, in the SEAT winning again. In Twelve rounds, we've had 9 winners, which isn't bad.
Giovanardi (leading, below) currently leads Plato by 18 points from Tom Onslow-Cole, Matt Neal and Matt Jackson (above). The final shot by John shows Giovanardi leading the field through Paddock Hill Bend, one of the most exciting corners at a UK circuit.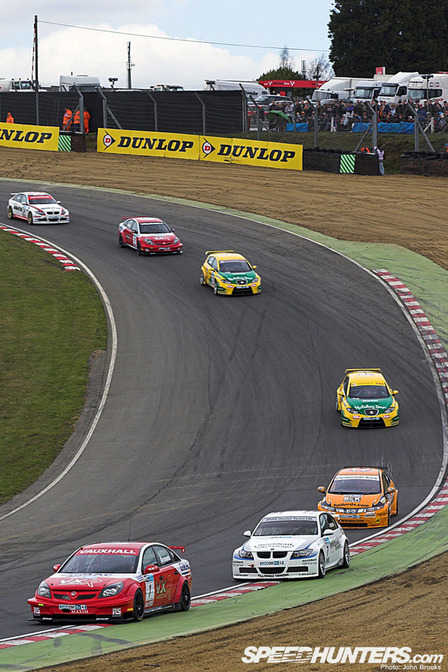 The BTCC is shown in the UK on ITV4 and around the world as far afield as Australia and North America. Unfortunately, North American fans have to wait until the fall, when Speed TV shows coverage, but its worth the wait!!!!
If you want to know more about the cars of BTCC, hop over to this post
http://www.touringcartimes.com