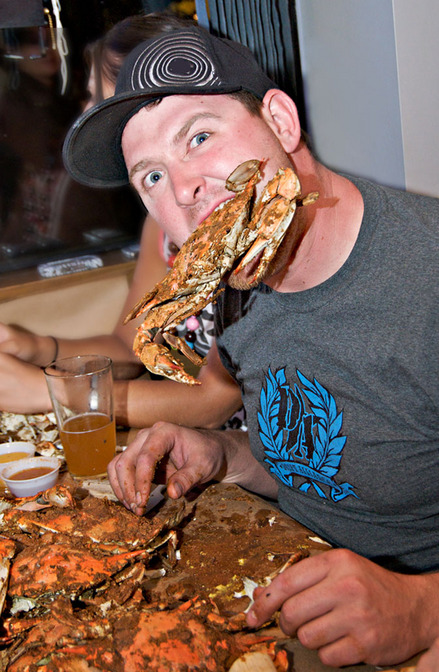 Hello all! My name is Vaughn Gittin Jr., otherwise known as JR. You might know me as a founding member of Drift Alliance or possibly as the driver of the Falken Tire Ford Racing Mustang who won the 2005 D1 Grand Prix USA vs. Japan and the 2007 D1 Grand Prix World Championship. It is also very possible you may know me as the loud and proud American screaming Motley Crue's "Live Wire" at the local karaoke joint in any town I have every been fortunate enough to travel to. I have earned the title as a world champion drifter, but I also think I am extremely badass at the fine art of having a good time!
I have never really been interested to have a blog, but when Rod explained to me what he had up his sleeve with Speedhunters, I was game. I'm not going to go much into my past in this blog, but mainly focus on recent events I engage in as I continue do my part to push drifting to the next level, live my dream as a professional drifter, and chase some aspirations to try my shoes in multiple seats. However, if you are interested in my past, check out www.VaughnGittin.com. My main goal here is to offer some fun reading, cool pictures, mind-blowing videos, and try to have more fun then any of the other guys on here! (Mr. Rado can you hear me?) No promises it will be cool to everyone, but I Guarantee there will be a lot of crabs being eaten and a decent amount of car-related fun.
For any of you that need some more knowledge of drifting or have any questions feel free to email me at question@vaughngittin.com. Also check out www.WhereToDrift.com to find localevents where you can go tear it up.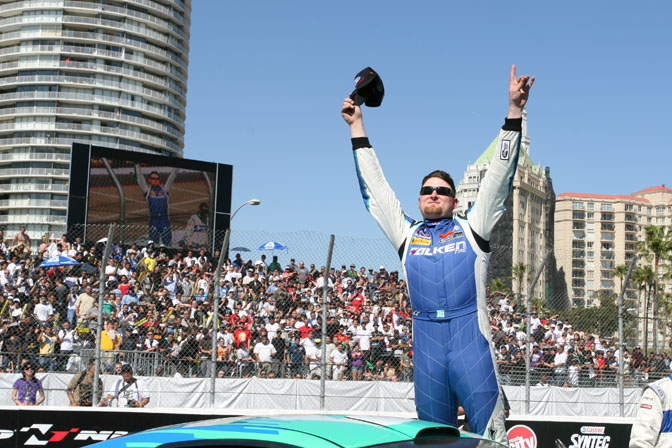 I showed up to Formula Drift Round One April 12th feeling amazing!  I was carrying the momentum from my big win at the 2007 D1GP World Championship. My nice and fresh custom Alpinestars suit amplified the pride I have to represent my newest sponsors including Ford Racing, Bosch, Genius Tools, Blaupunkt, and of course the continued support from Falken Tire, K&N Filters and Exedy Clutches. Anyone could tell by the smile on my face or my confidence behind the wheel, I was on top of the world and ready to rock!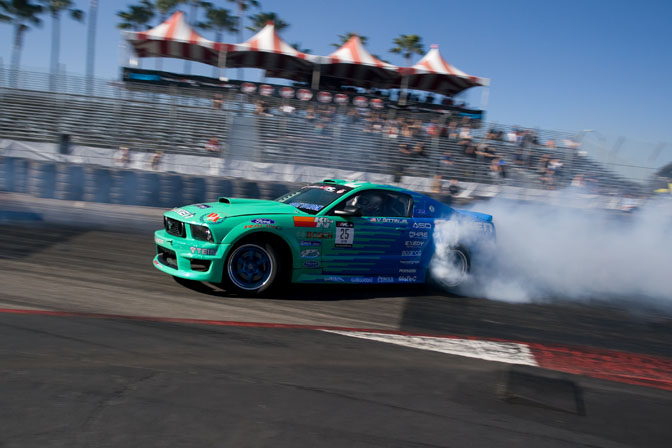 I can't stress enough that Long Beach is such a great place to start the season. The whole town goes nuts for us out there tearing up the streets – the aura of the crowd is electric. I felt great during practice, I was dead-on and my new crew from Autosport Dynamics had the Mustang working in top-notch shape!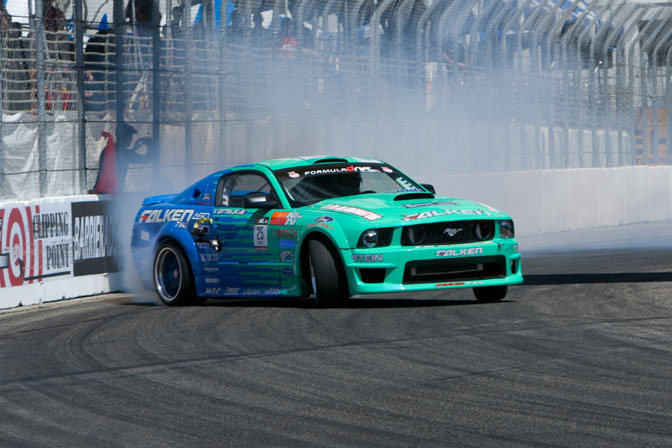 I set the bar on my first qualifying run and when the smoke cleared I was sitting in 6th place overall. This paired me against  Kazu Hayashida in the battle of the Sweet Sixteen. Being the higher qualifier, I led in the first battle. I came into the first turn with so much angle and speed, that it felt like I was driving backwards. I nailed all the clipping points and the judges awarded me an 8-6 advantage for that run.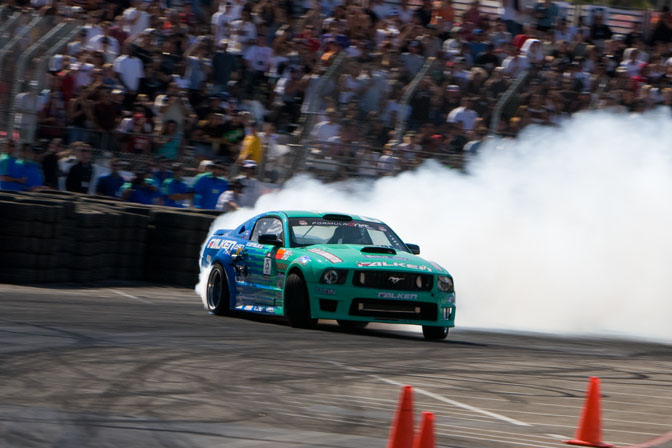 Following in the next run, I went into the first turn as normal and Hayashida entered much slower than he had been all weekend forcing me to do everything I possibly could not make contact. This loss of entry speed unfortunately forced me to run a shallow line and straighten up. This gave Hayashida the advantage and the win of the round.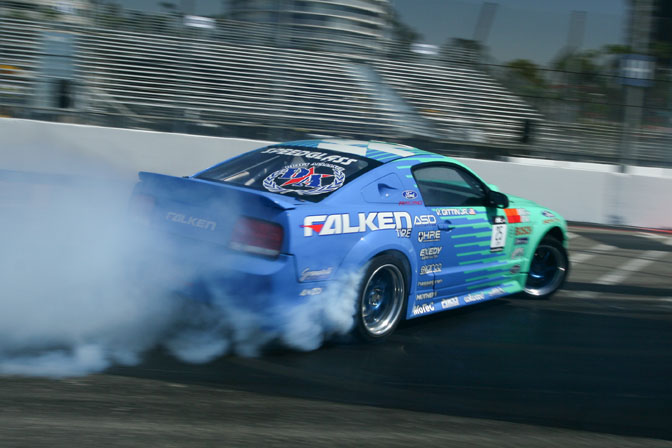 I came in 10th place overall for Round One – not exactly how I planned to start the season off. It's hard to prepare for a lead car that is going much slower then the normal entry speed and I just got caught up. Since me lowering my standards and driving anything less than 95% is out of the question, I have created a new rule: It's called the "Get Serious Rule" – if you are leading me and you don't enter like a man you will get a Ford Mustang front-end or a Falken Tire branded on your door. I would rather give a competitor a little love-tap then chance for something like this to happen again. Maybe that's what I need to do a few times to stop some of the games and speed some of the slower guys up?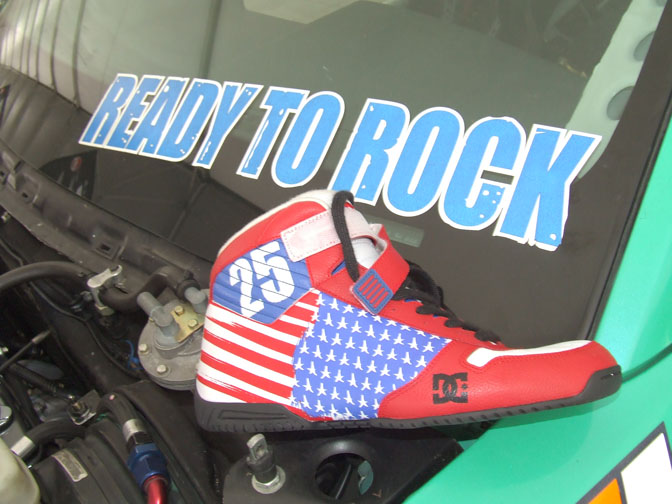 Ken Block came up to me after the event with a DC box and a big grin on his face. Inside the box where a pair of badass DC driving shoes that were custom made for me to further show my American pride – like it's really needed, huh? There are only five pairs of these in the world and I'm hoping to do a giveaway in the near future, so be on the lookout! Big thanks to everyone at DC for making the "American dream" for my feet. BTW not only do DC driving shoes look great. The real genius is in the functionality and comfort. They even have a place to tuck your laces
After Round One, I stayed in the LB to compete with my Drift Alliance brothers in the Formula D Team Drift competition. I cannot express how much I love doing team drift with my DA boys. Being on the track together just feels good. It's like we can read each other's minds and can tell what everyone's next movements will be. It's very hard to explain, but trust me, it's awesome.
 
The Long Beach Grand Prix was the first time Chris, Tony, and myself were going to be able to compete as a team together doing what we love to do and what we do best – drive as a team! We went out and just had a blast – drifting the entire Long Beach course is insane. Flat-out down the main straight to a hard left into turn one is probably the most fun single drift that can be experienced and I can only imagine how insane it must be to watch.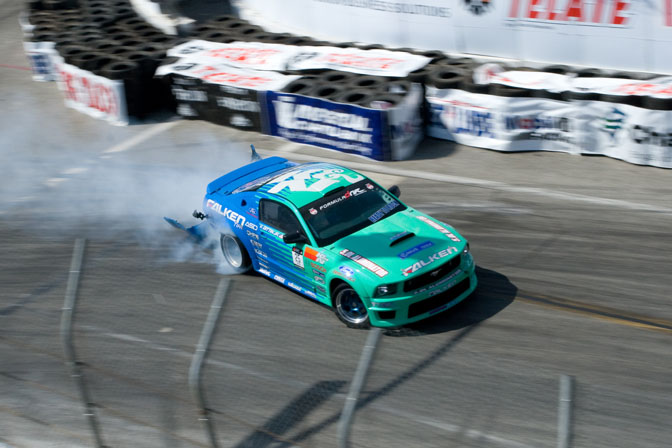 We were only judged on the same three turns we ran the prior weekend in Round One competition, but the bros and I decided to run the whole course to show the crowd some love and put on a great show – something Drift Alliance is known for world-wide. We were pretty much on each other's doors all weekend. Tony led, Chris was the middleman, and I was in the smoke machine in the rear. The most insane thing we did was when we ran the last turn, a very tight hairpin with us three side-by-side. I felt like I could high-five Forsberg – that's how close we all were. We did it every lap and I could hear the crowd going nuts every time we passed – such a great feeling!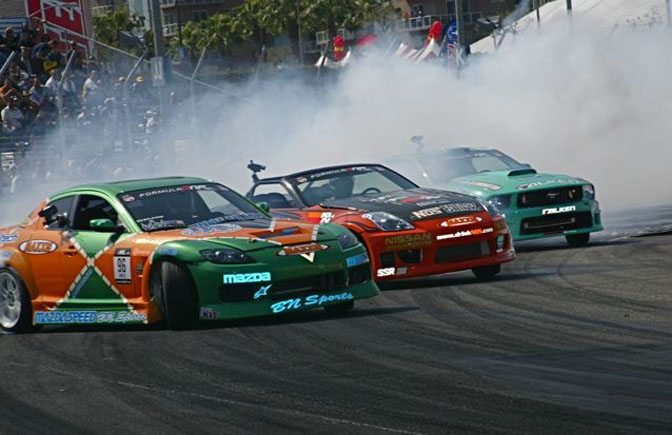 On top of being the 1st place qualifiers we also received 1st in the competition with 29 of 30 possible points granted – the 2nd place team was 12 points behind us. We were pumped as we stood on the podium and sprayed champagne all over ourselves with pride. I know this will sound super arrogant, but I'm going to say it anyway. To be honest, I personally wasn't really surprised we won. I can't really think of any other three drivers in the world that have the chemistry we have on the track when we are on our game like we were that weekend! Add Ryan Tuerck to the mix and we have very possibly the most insane team drift lineup ever dreamed possible!
-Vaughn Gittin Jr.