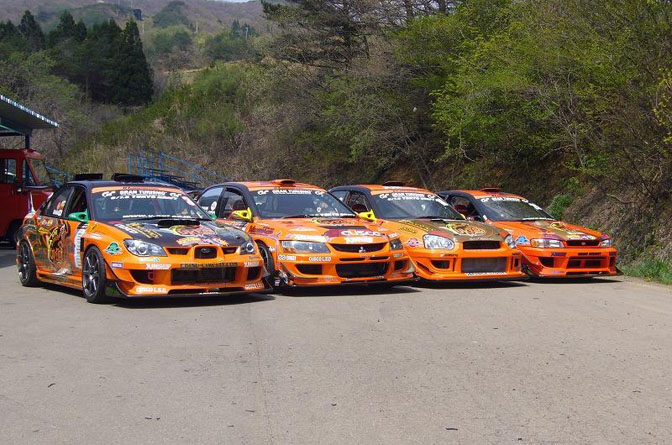 Hello everyone! I am Naoto Suenaga from Team Orange. For my first blog post, I'd like to introduce Team Orange's drivers and cars for 2008. For '08 we have added one more driver to our roster. We are now participating in the D1 Grand Prix with a four car team!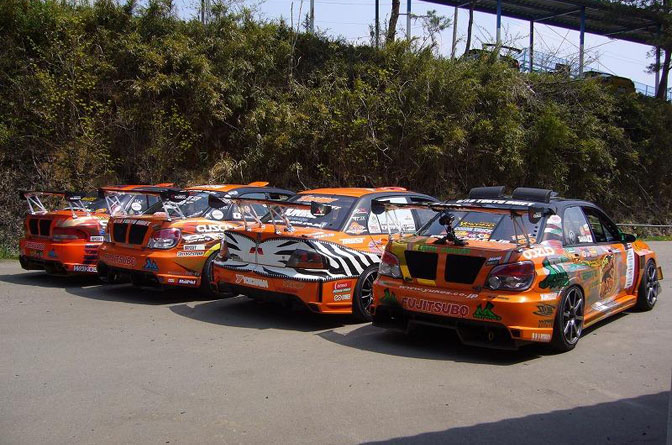 Here is the rear view of our cars. All of the Imprezas have rear-mounted radiators!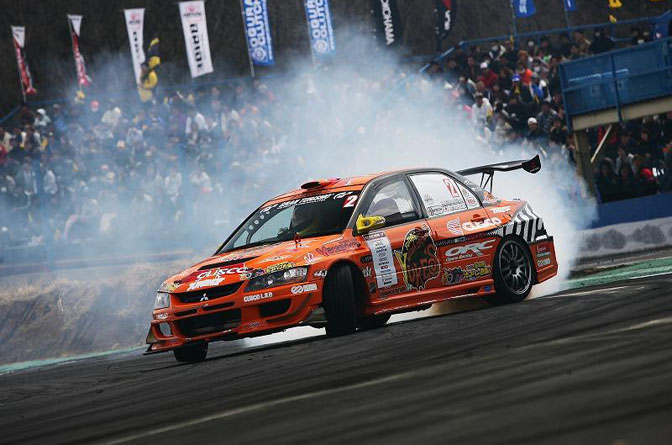 First, we have our team leader Nobushige Kumakubo's Lancer Evolution 9. This car has had the engine changed from a horizontal position to a vertical rear-wheel-drive layout. The chassis has also been modified specifically for drifting. This the only super machine of its type in the world! The 4G63 engine has been bored up to 2.2 liter and is making 580hp. The transmission is a 6-speed sequential from Holinger. In 2007, this car achieved the second overall standing in the D1GP.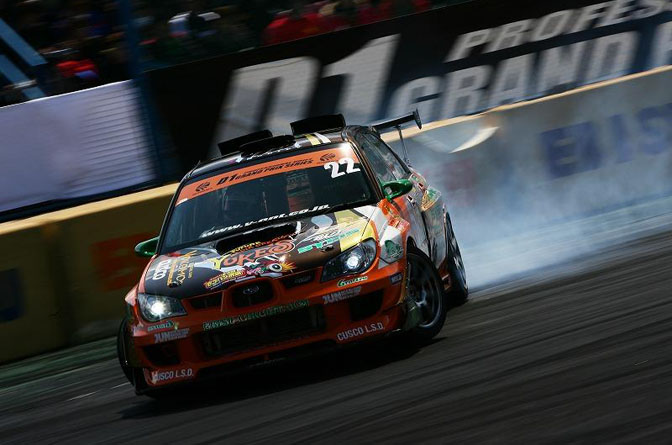 The driver of this GDB Impreza is Kazuhiro Tanaka. This car has also been converted to an FR layout. The engine is an EJ25 with a 6-speed transmission. This car scored 3rd place at the 2008 D1GP opening round at the Ebisu Circuit South Course. The parts on the roof that look like cat ears are used as ducting for the radiator.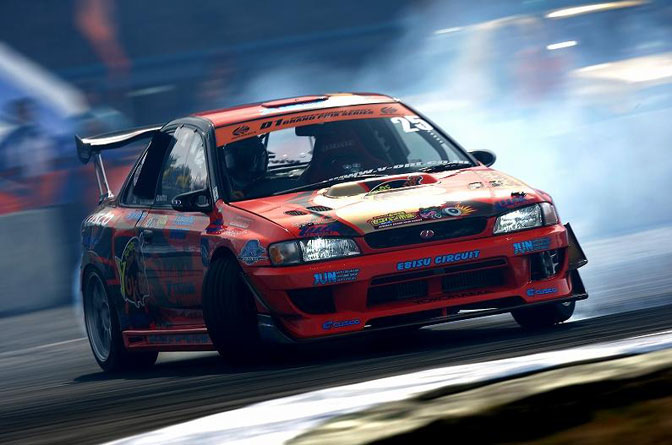 The driver of this orange GC8 Impreza is me, Naoto Suenaga! I say GC8, but the base car is actually a two door GC1 Impreza that was sold only in Japan as the Ritona grade. The engine is an EJ25 and the transmission is a 6-speed from the GDB model Impreza. My car is the lightest one in Team Orange at 1250kg (2750lbs). It also has a rear-mounted radiator. The vents in the rear quarter windows feed air to the radiator.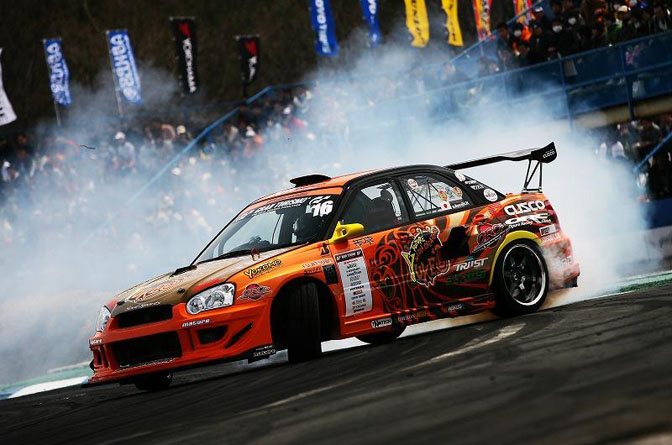 Lastly we have Team Orange's newest driver, Hideo Hiraoka, who joined the team this year. This is the same car that Kumakubo-san won the 2006 D1GP championship with. Like the other Imprezas, this car also has an EJ25 engine. This one has a 6-speed Holinger sequential transmission. It took some time for Hiraoka to get used to the sequential tranny, but he is getting the hang of it now and we are expecting big things from him.
We are the new four car-strong Team Orange for 2008 and we are going to dominate worldwide this year! Look forward to hearing more awesome news from us,
-Naoto Suenaga