I know that you all know the results of Formula D Round 1 by now. However, I thought I'd just share some "lifestyle pics" so you all know what it was like to be at the actual event! Check it out…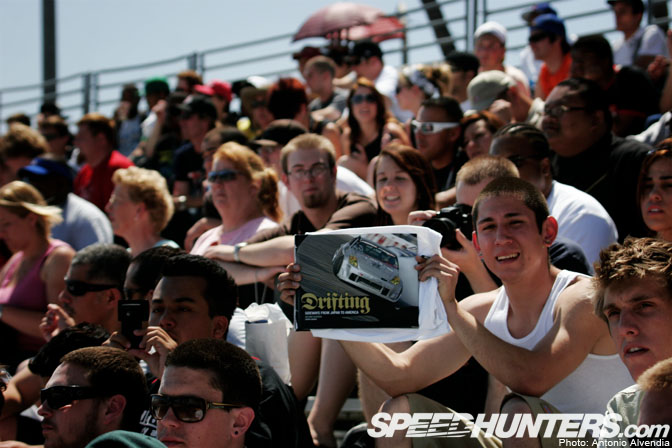 As I was scanning the main Formula D grandstands for some of my friends (and by "some of my friends," yes, I do mean good looking ladies, you caught me!), I noticed this guy holding his copy of my hardcover photographic documentary book on DRIFTING. I thought it was sooooo cool that the book is still seen at Formula D events to this day, even though it was first released way back in 2006. Maybe it's because a trend developed around this book… drifting fans take it with them to the different drifting events to collect autographs from all the drivers and models featured in the book! Whoever started that trend deserves a round of applause!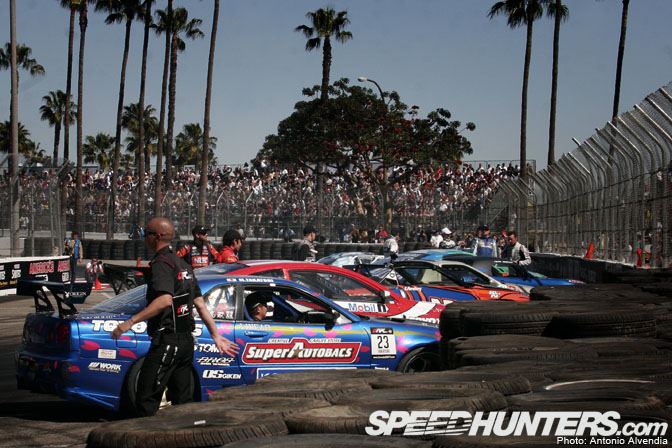 Formula Drift always does a cool driver introduction ceremony for the Top 16 ranked drivers of the day. They bring the drivers and the cars out on to the track, park the cars right in front of the bleachers, and then introduce the drivers and cars individually! After this, that's when you know the most exciting part of the event is about to begin!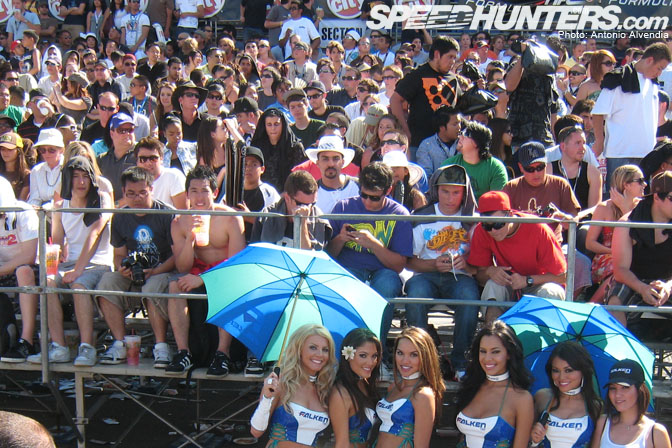 I love the Falken girls! Everyone does. Most of them are close friends of mine… but my favorite part of this photo is the guy in the red shirt, who's trying to sneak a peek of the goods! You just got caught, sucka! But I can't blame you for trying.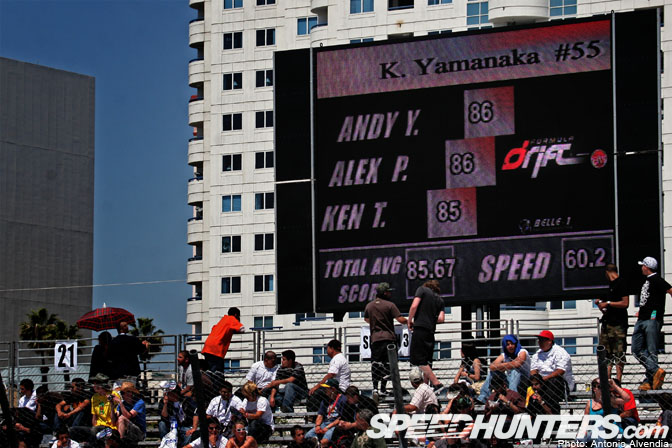 What is a Formula D event without a Belle 1 jumbotron? Most people don't think anything of it – they have just taken for granted that all big events that happen in North America have a Belle 1 jumbotron present. However, I think we need to give these guys their due props!
The Belle 1 Communications crew are the first guys to arrive at the events, and the last ones to leave. They come to the track days before the other vendors even set up, so they can survey the track, design a layout plan for optimum placement of the huge jumbotron screen, where to place the speakers for maximum reach and impact on the crowd, how and where to run the cables.
Then, on the actual event day, they sit high above the tower with their huge computer and switchboard setup, bumping the best underground hip hop and funk beats to keep the crowd grooving, while making sure that everyone can hear what the announcer says, and that the judges and Formula D staff don't lose communication with each other… not to mention all the communications between the drivers, teams, and course workers!
During the most exciting part of the competition, the Top 16 tandem eliminations, is where these guys really show their skills and prove their worth. Using their huge computer thing, they produce the whole spectator portion of the event, putting driver and car information up on the screen LIVE, along with the judges scores, and driver top speeds… all the while, switching back and forth from commercials to sponsor messages, so that Formula Drift can keep their bills paid and make sure the sponsors stay happy.
This is possibly one of the most thankless but necessary positions in the Formula D tour… so here it is, I'm saying it. We appreciate you guys Belle 1!
Keep rocking it at the next event!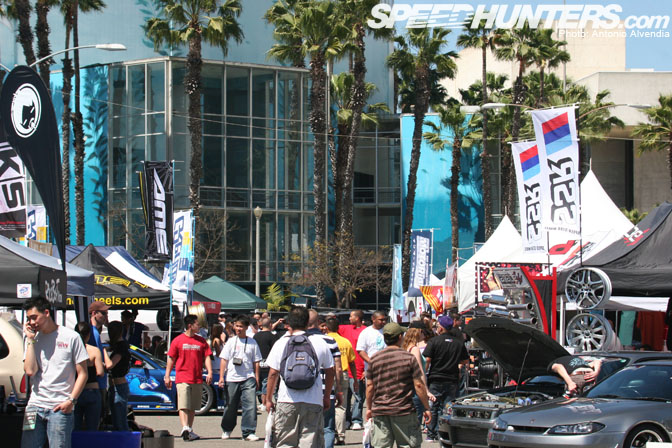 On the other side of the grandstand/spectator area, the pit area and vendor booth area is always cool looking at Long
Beach. On one side, you have the picturesque Long Beach towers, on ne
side, you have the cool ocean breeze from Long Beach harbor, and on one
side you have the Long Beach Convention Center, which has whales and
other aquatic life painted on the side of it, advertising the nearby
aquarium. Very Long Beach.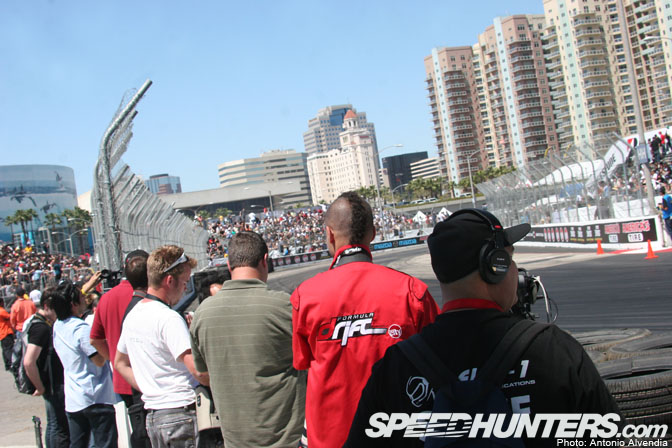 This is the area where most normal spectators can't go – the media area! This is where members of the media get the best view of the action, without having to look through those ridiculous mesh fences! But this is also where we get hit with tire shreds, and sometimes pieces of aero kits, and where we have to endure complaining from some photographers who can't seem to sell their work, or get companies to pay them to fly to out of state events. Also in this media area, photographers must "battle for position" so we can get the best photo taking spots, haha. It gets competitive in there sometimes, especially in Long Beach, jeez! Why can't we all just get along?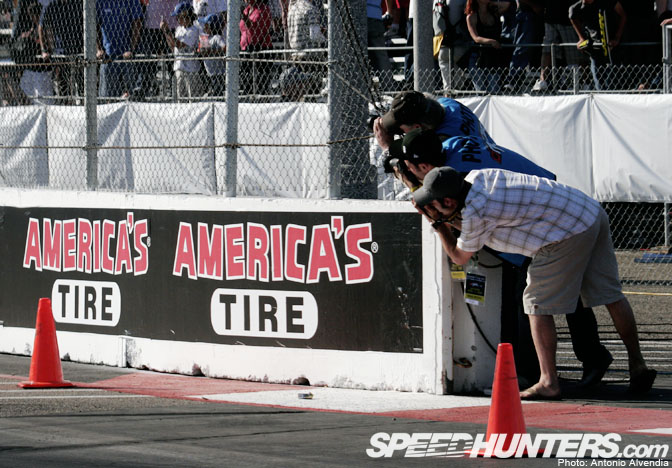 Since we're on the subject of media right now, let me just say… I've been shooting Formula Drift since the very first event at Road Atlanta in 2004. As the series grew bigger, they implemented rules for media people – things like: Media people must wear long pants in order to go trackside at events. Media people must wear closed toe shoes, no sandals, slippers or flip flops accepted. They even mention these things in the media meeting on the morning of the event, and it might be on one of the media documents somewhere.
So can someone please tell me… how did this guy (above) get past the brilliant hired security officials at Long Beach? This guy looks comfortable as hell, chillin out with his shorts and slippers (recently, when I was in the UK, a sales lady at Superdry pointed out to me that the official name is "flip flops" but I am a Pacific Islander, and we all call them slippers! Don't believe me? Go to Hawaii and ask them where you can buy flip flops, and prepare to receive a blank stare…). Meanwhile, on the other side of the track, all the media people on my side of the track were complaining that there was a guy in shorts and slippers trackside! We were just jealous that it was a super hot and uncomfortable day, and it was like a rainforest inside our long pants… meanwhile, this guy seems cool and collected on the other side of the track, in his shorts and slippers. We were jealous!!!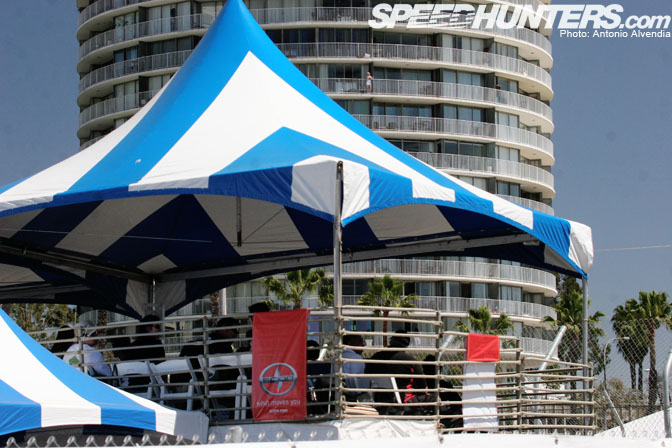 Scion is a new sponsor to the Formula D series – I'm sure many of you have seen Ken Gushi driving the new Scion/RS-R tC drift car, which was converted to rear wheel drive! Anyway, Scion had a "special VIP guest only" area at the Long Beach event, overlooking Turn 1 and 2. This skybox suite had special gift bags for their special guests, and delicious looking catered food for their VIP guests as well. That's right, I said "delicious looking." At the moment, I'm not cool or important enough to get admitted into this special persons area… but maybe if I work on increasing other peoples' perceptions of my worth, then hopefully by the 2009 season, I can get me one of those special wristbands and enjoy some of that delicious food that Scion hooks their guests up with! Yessss!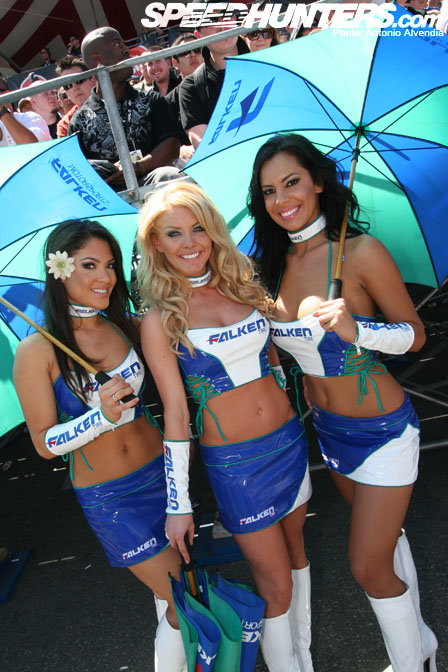 I like the one on the left! (If you're reading this, holla at ya boy! Email me through the Speedhunters site, or add me on Myspace/Facebook!) Haha, just kidding! Or am I?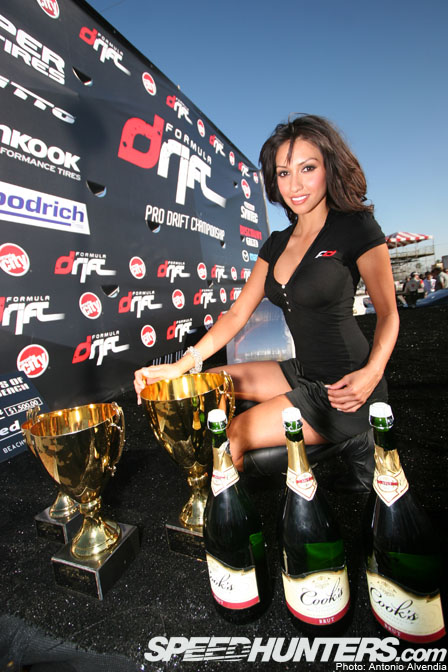 Hey Ms Formula D, I have an idea! You can go ahead and give those trophies to the Formula D winners, but how about you just drink those 3 bottles yourself? Drinking and driving isn't safe anyway! Who else agrees with my logic?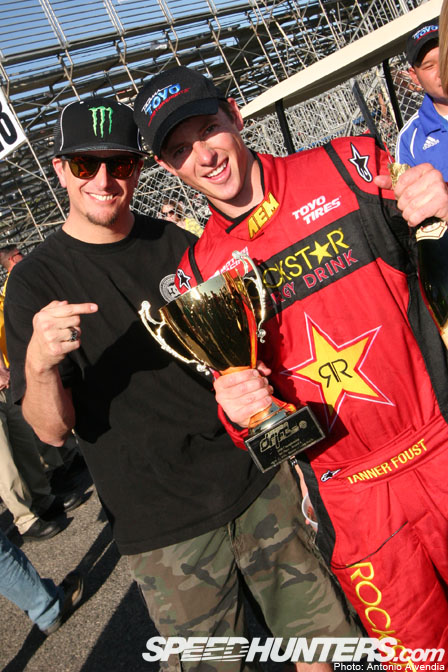 X-Games buddies Ken Block from DC Shoes and Trav… err… Tanner Foust were chillin out together after the podium celebration! Ken is down with Monster Energy drink, but Tanner is repping Rockstar pretty hard! Nice to see that the war of the energy drinks isn't as heated as the war of the tire companies! (Yet…)
Tune in next time! Same bat time, same bat channel!
-Antonio Alvendia
DRIFTING: Sideways from Japan to America hardcover book