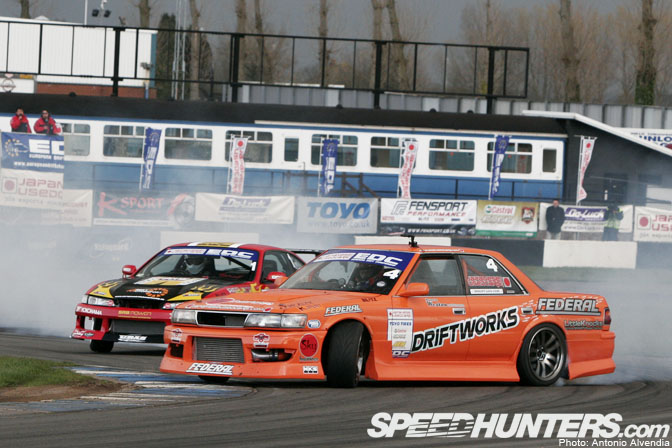 This April, Rod and I were lucky enough to go to England for the first round of the European Drift Championship (EDC). It was awesome! After enjoying a spot of tea, I got to see firsthand what drifting was like in the UK. The lifestyle vibe, style of cars, and overall environment were very different from what I'm used to seeing in the United States and Japan, and yet, many things were very much the same.
One commonality was the awesome camaraderie between drifters, their love for the cars, and the basic enjoyment everyone gets when they throw their cars sideways into a high speed controlled slide! Just brilliant, in't it? What could be better than that?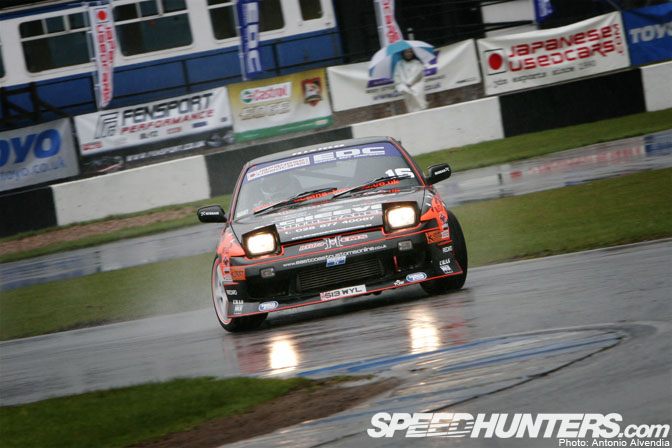 Of course many of the EDC competition cars are very much the same as what you normally find at drift events in other parts of the world – Z33 350Zs (In England they call them Zed33s!), AE86s, Skylines, RPS13s, S14s, and S15s.
In England they call S13s and S14s 200SXs instead of 240SXs in! Hehe, in the USA the 200SX is a POS front wheel drive car! Lucky for the Brits, their FR S13 and S14 200SXs are much better than the FF 200SXs we have in North America! Our FF 200SX is just a load of bollocks, in't it? (In my best Bri-ish accent – Andy Barnes from EDC makes fun of me because he thinks my Bri-ish accent sounds Australian! But hey, aren't all non-American accents of the English language pronounced wrong anyway? LOL! Just kidding Andy!)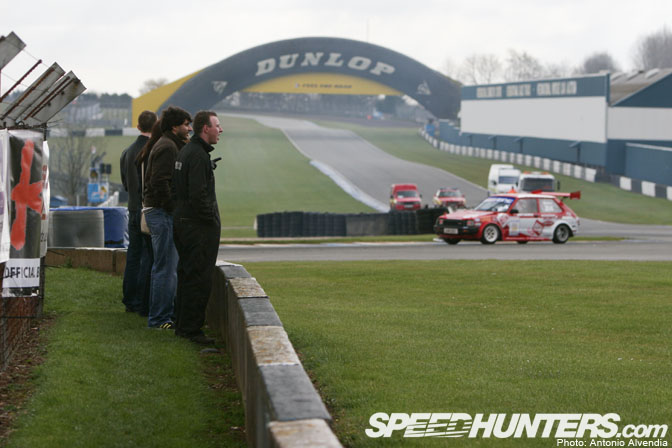 One thing I definitely was not used to was the English weather! As I maneuvered my way around the huge physical area of Donington Park to reach the trackside photo areas, I experienced almost every single season of the year! When we first arrived at the racetrack, it was snowing!
Since it was freezing at first, I was wearing a big parka at the beginning of the day. It cleared up a bit later, and actually became pretty hot, so I ditched my parka in favor of my favorite sunglasses and began walking around the track just wearing a t-shirt.(Obviously I was wearing more than just a t-shirt. I just meant I took off my jacket!) Then 30 minutes after that, it started raining!!! What?! British weather is crazy! I wonder what the British weather reporters say for their news forecasts – "all of the above?" Even later in the day, it began snowing again, and begin from sunny Southern California, I was freezing again… I even bought gloves and a scarf at one of the EDC vendor booths to keep myself warm. Ten minutes later, while I was still all bundled up and freezing, I saw some little girls running around the pit area wearing thin jackets, and they didn't look like they were cold at all.
Imagine how lame I felt, all bundled up and freezing, but these little girls weren't bothered by the cold weather. Come on, be a man, Antonio!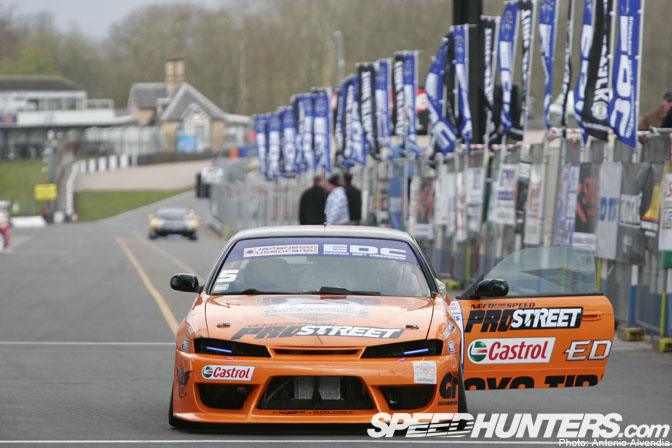 Walking through the pit area, I was surprised to see an orange S14 with Need for Speed Pro Street logos on it! Apparently this car belongs to Maciej Polody from Poland! With sponsors like EA, Toyo Tires and Castrol, it looks like this guy has his sponsorship game on lock! Great work Polody! What happened to the car's headlights though? They're missing!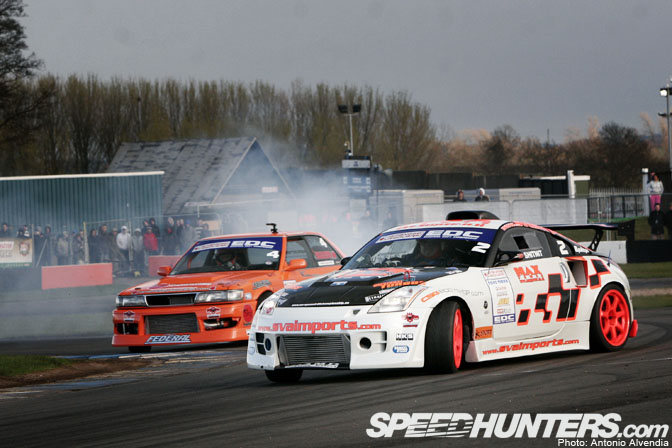 All in all, I need to give all the drivers and organizers (organisers for you Bri-ish blokes) of the EDC Series their due respect. These guys have heart. They're out there giving it their all at the track, and it's all for the pure enjoyment of drifting itself. The European Drift Championship is certainly growing very quickly! Just like the Formula Drift series did in the United States, I think the European Drift Championship is going to spread like wildfire! I can't wait to come back so I can check out another EDC event! Maybe next time, I can get myself some of those cool blue "I <3 EDC" stickers for my camera case! Then my camera case will be representing drifting series and race tracks from all over the continental USA, Japan, Canada, Hawaii, Greece, and now, the UK. Super cool.
-Antonio Alvendia
European Drift Championship Website
European Drift Championship Round 1 Results