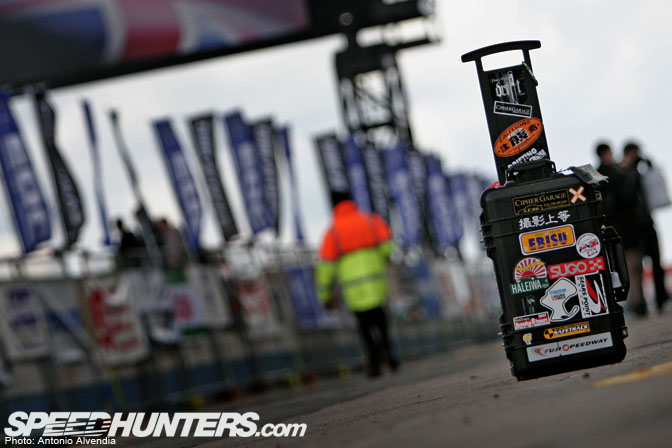 Hi everyone! I'm Antonio Alvendia from Cipher Garage. I grew
up in the San Francisco Bay Area; I was a Silicon Valley kid. Right after high
school, I began a career working in the internet and wireless networking
industry, which led me to become a marketing and sales manager for a couple of large
internet companies, as well as a few smaller start-ups. I remember when the
internet was a new thing, and people were still calling it "the information
superhighway," haha!
During this time, street drag racing was really big in the
Bay Area. Every week, on Friday nights, tons of fixed up cars would meet up at Denny's
on Berryessa, In N Out Burger at McCarthy Ranch, Chevron on Montague, Edgie's in Milpitas, or Serramonte Mall's parking lot,
then head out to the underground spots to line up and race. My friends and I
would always head out to these illegal street races to chill with our friends, meet
girls (for some reason, there were always hot girls around this scene – maybe they
were trying to hook up with new boyfriends with the hot cars?), and just have
something to do on a weekend night. It was kind of funny… in the daytime, I'd
be suited up to "look professional" for my Silicon Valley job, but later that
night after work, I'd be in my lowered ST162 Toyota Celica or AE86 Corolla GT-S
running from the cops at a street races, which, ironically enough, were in the same
technology business parks that I worked in during the day!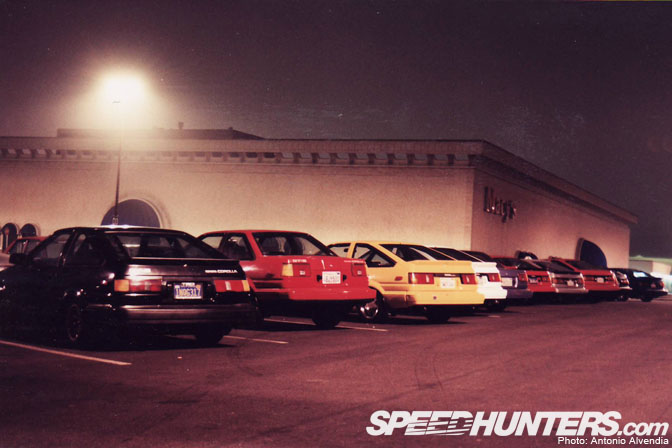 (Above photo: Our SF Bay Area crew! The original AE86 Driving Club
at Serramonte Mall, late one Friday night in 1997. Or maybe 96? 98?)
At that time, front wheel drive imports dominated the
streets because most people couldn't afford the higher end rear wheel drive
cars. Since my cars were a lot slower than a stock Integra GSR for instance, I
wouldn't even attempt to drag with these guys. I'd line my car up at the street
races, then halfway down the "strip" I'd swing the tail end of my car around
and end up doing donuts and stuff like that in the streets! It was
funny – my friends and I were laughing about it the other day; in fact my
good friend Ricky reminded me that one night at the street races, people were standing
in line to go out and do donuts with me in my first Corolla GT-S! Since most of
the people had front wheel drives back then, they were super intrigued by my RWD
AE86, and my ability to do donuts in such small spaces, because my AE86 had an
LSD even back then. Hilarious! I can't believe I acted like such a moron, but I
was young and just trying to have fun at the time! Haha!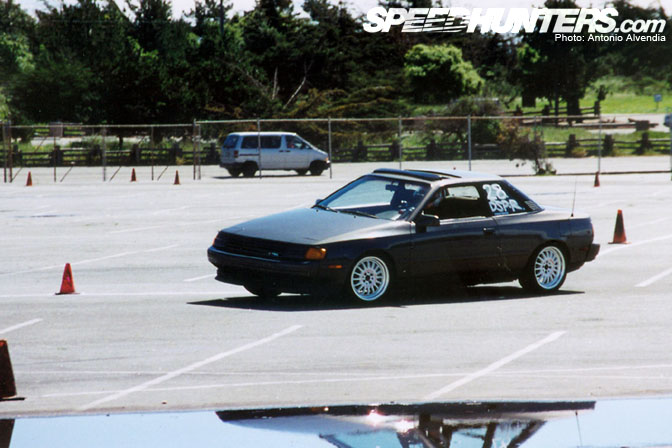 (My rookie season driving my Celica in the D Street Prepared group
at an SF Region SCCA autocross at Candlestick Park. That thing was slow
as hell, but at least I had cool wheels – 16" Sprint Hart CP-Rs.)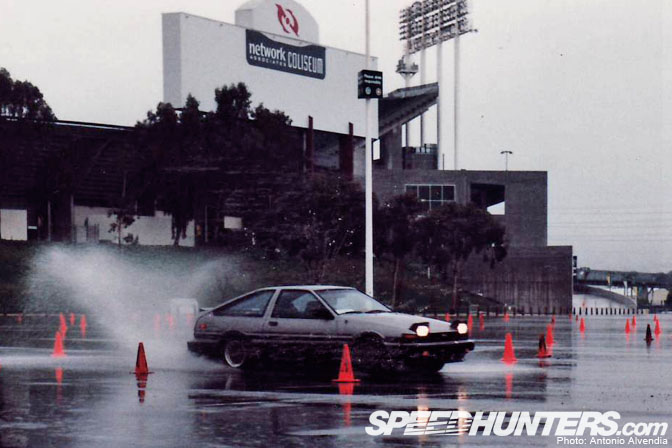 (Me driving my first ever AE86 at an SF Region SCCA Winter Slush autocross event at Oakland Coliseum. 1997 maybe?)
I wasn't too good at taking photos at the time – my only prior
photo experience was my high school photo class and working at a photo lab during
high school. I also used to take photos at all these underground hip hop events
so I could see all my favorite hip hop artists and go to concerts for free,
even though I was under 21 at the time. I was lucky – this was during my
favorite era of hip hop – the mid to late 1990s, so I got to take photos and go
on stage with legendary hip hop artists like The Roots, Common Sense, The
Fugees, Artifacts, De La Soul, KRS One, and a lot more. If I wasn't at the
street races or an SCCA Autocross event, I was more than likely at a concert or underground hip hop event in Downtown
San Francisco. It was such an amazing time in my life!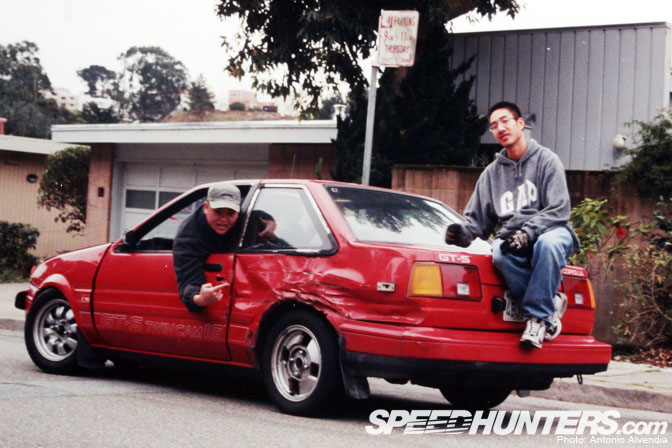 (Me and Calvin Wan in South San Francisco, with
the 2nd AE86 I ever bought. 1997? 98 maybe? Wow! I guess I've been
friends with this guy for over 10 years!)
Back to the car stuff, it was around this time that I first
began to hear about drifting! I thought it was amazing – controlling something
that was seemingly out of control! In fact, since I worked at an internet
company at the time and had free webhosting, I started the original Team Cipher
website in the mid 1990s, which was one of the first websites on the internet
to feature content related to drifting, JDM parts, and vintage Japanese cars. Of course, most of it was AE86 and TE27 related!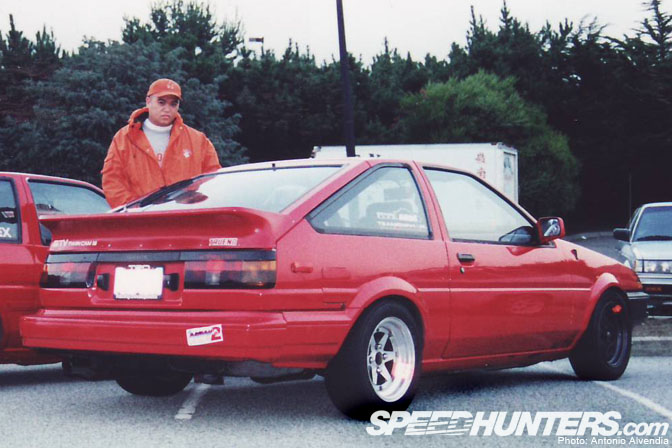 (Me and my 4th AE86 at an AE86 Driving Club meet at Ling Nam Noodle House, Daly City CA. 1999)
I still have the original photos and negatives from these early days…
it's ridiculous to think about how much money I'd spend on film and developing
for the Cipher website! I would buy film at roughly $5 per roll, go to the events and
pay $15-20 to get in… then take photos all day, then develop the film at
roughly $8 per roll, then take the best pics and scan them all in, then upload
them! Ridiculous!!! No wonder people weren't going through the trouble of
making websites back then! I remember that when I got back from Tokyo Auto
Salon in 1999, I had something like 24 rolls of film to develop! I spent around
$300 just to buy film and develop them! Ridiculous! I'm glad I did it though…
this was my foundation.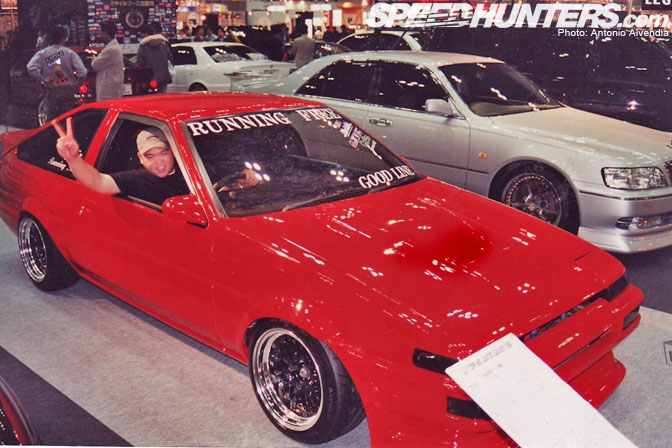 (Me sitting inside the legendary AE86 Trueno of one of my first AE86 heroes, Yamashita Koichi from Kanagawa based drift team Running Free.
It was his car that made me fall in love with red AE86 Trueno
hatchbacks, and now I have three of them. Tokyo Auto Salon, January
1999.)
Nowadays, a lot of "internet car gurus" have been popping up
online – these guys read stuff on Wikipedia, Google, and other websites, then
regurgitate it on the forums and on their blog sites, and everyone thinks
they're experts or something. Not me.
I learned what I know the old fashioned
way – from spending all my time taking photos, and all my money on
developing film, searching for rare car
parts, spending entire days hanging out in the garages of friends,
working on
my cars with my friends, driving up to visit my friend Ricky and
soaking up all the information he knows about old Toyotas, befriending
AE86 drivers and
car owners in other countries even though we didn't speak the same
language,
spending all my money on Japanese nostalgic car books and drifting
magazines
that I can't even read… these are my real life analog experiences that taught
me what I know about cars and car culture, and I wouldn't trade it for the
world. Most car enthusiasts get to read stories about cars and motorsports, but
I've been given the chance to live it – and I wouldn't trade these experiences for anything.
As the founder of the old school Toyota and AE86 crew known as
Cipher Garage, I have been collecting cars and car memorabilia
since a little before I was 21. Damn, that seems like such a long time
ago! I feel like I'm getting
old. (Sshhh! Don't tell the umbrella girls!) I have more cars than I
have
parking spaces for; I own 5 AE86s (four in the USA and one is in
Japan), a
Lexus for daily driving, and the crown jewel of my collection – my rare
1973
TE27 Toyota Corolla 1600SR, 5 speed, with original orange paint from
1973. Most
people refer to this car as the 1973 Corolla SR-5, but in Japan it is
the Showa
48 Corolla Levin. This is my dream car! I could fill chapters and
chapters with
stories of how I searched for this car, acquired it, and the adventures
I had
with it, but we'll save that for later.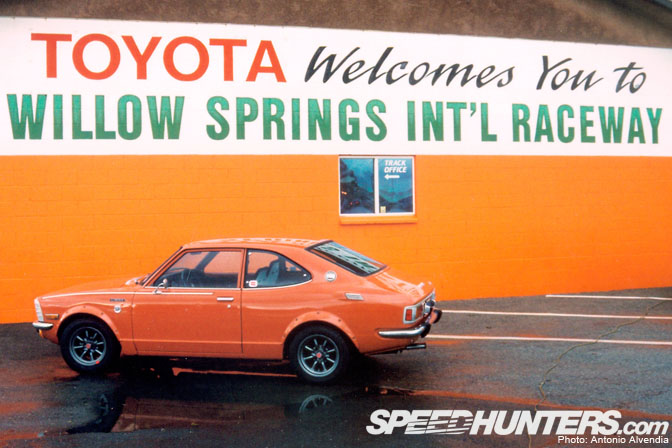 (The love of my life. My TE27 Corolla 1600SR 5
speed. Original orange paint from 1973, with TRD 2TG engine. Willow
Springs, 2001)
Some people who have been part of the AE86
community for a while might be familiar with
some of my AE86s. I have a red 1986 AE86 Corolla GT-S hatchback which I
repainted and cleaned up for the 2000 SEMA Show, and re-fitted with
kouki version Japanese domestic
Sprinter Trueno parts. Even though I spent about $3000 painting this
car back
then, I still drove it to work every day, 1.5 hours in traffic in the
morning, and then 2 hours in traffic on the way home. I wanted to enjoy
every minute I spent with this car, so alot of my life revolved around
it. I was seriously Living the 86 Life! No doubt!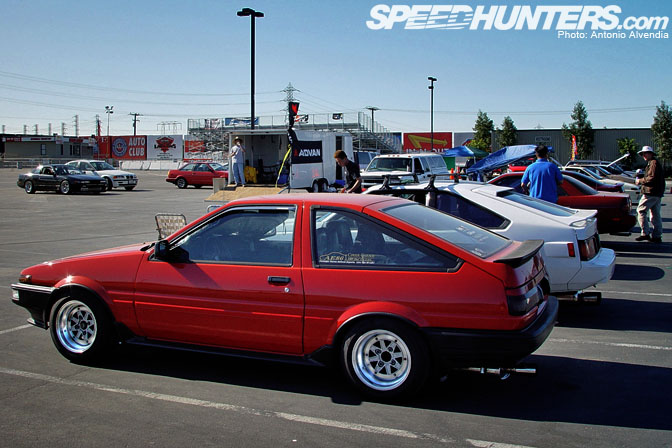 (Cipher
Garage 3-door kouki AE86 with 14×8 (-12) SSR MarkIII wheels at Drift
Day 4 parking area. Irwindale Speedway, possibly 2002?)
A few years
after that, I acquired an almost perfectly matching red AE86 from my good
friend Patrick, except it was a 1985 version, with all zenki JDM parts. Even
though this one has been taken out to its own share of track events, my zenki
AE86 is also primarily a street car. For my own personal collection, I prefer clean and complete
vintage Toyota street cars much more than gutted out race cars that you
can only enjoy at the racetrack. I bought this red zenki "twin" so I
could preserve the super clean condition of my kouki
86, and put less miles on it. I'll talk about these cars more later, as
I could
write a whole separate website just on these cars and my experiences
with them.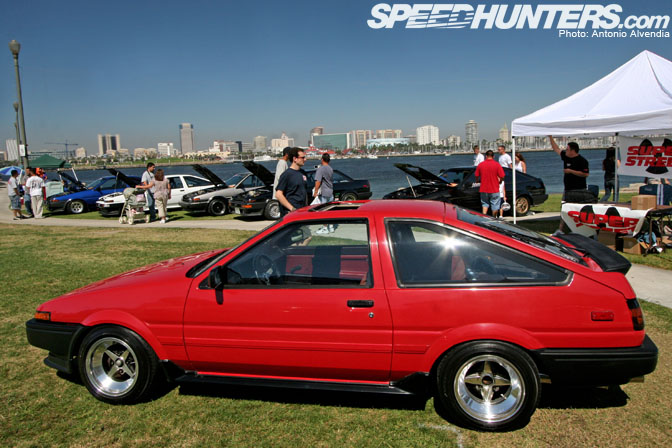 (Cipher
Garage zenki AE86 3-door with vintage 14×8 (-18) Work Equip 01 one
piece wheels. Japanese Classic Car Show, Long Beach 2005)
Sometime in 2003, the Canon 10D digital SLR camera came out.
I shelled out the dough to buy it, and this camera really changed everything
for me. The first event I ever took it to was Drift Day 5, in the parking lot
of Irwindale Speedway. Shortly thereafter, professional drifting began to
emerge and spread in the United States. There were actually several small
events happening since around 2000, but the first really big drift event in
Southern California was in August of 2003, when Slipstream Global Marketing teamed
up with the Video Option guys to produce D1 Grand Prix at Irwindale Speedway. Several
of my good friends from the USA actually drove in that event, competing against
the legendary drifters from Japan that we all idolized. It was so exciting! It
was during that time that I began my career of documenting drifting and its
spread across the USA, and now, the world.
Ever since then, I always had a dream of making an actual
hardcover book, full of my drifting photos. I immersed myself even deeper into the culture that I had already been involved with. I ate, slept, and breathed
drifting.
All my friends at the time (most of them were AE86ers) were emerging
as the top drifters in the United States. Again, I could go on forever
telling
stories about these early days of drifting. I ended up quitting my
cushy job as a marketing/sales manager so that I could be my own boss
and try to make a living by working within the emerging drifting
industry. During those days, I went to every single drift event
to
take photos and document the scene, regardless if I was making money at
it or not – Even though I had some super cool cars with super rare
parts, when I started my business, Cipher Media Group, I was so broke
at the time, it was ridiculous! (I shouldn't have quit my day job so
soon, my new company wasn't ready to support me at the time! LOL but
with alot of help from friends and family, it ended up working out
fine.) At this time, I had to stop buying car parts, and sank all my
money into my photo equipment. Shooting all these drifting photos and
making a book wasn't even a job to me at the time – it
was my passion, which kept me even more driven to make it happen.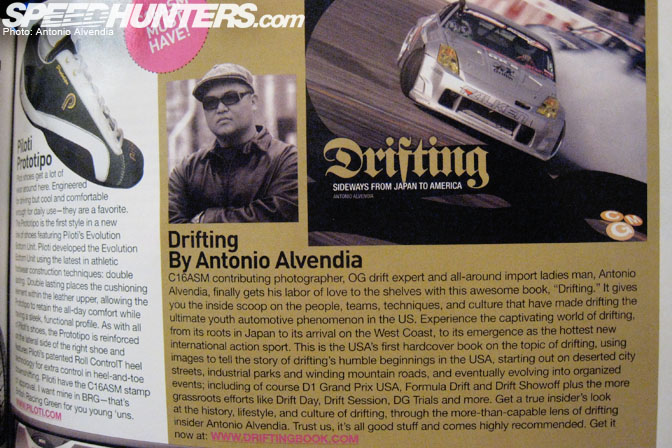 In the fall of 2006, my dream came true, and I actually
released my hardcover book, entitled Drifting: Sideways from Japan to America. This was the very first actual book
to be made about drifting – I was really surprised when I was informed
that there was never an actual book made about drifting, not even in Japan! They only had magazine special editions on drifting from what I was told. To be honest, I never
really liked the subtitle of my book; I thought it was super lame. My publisher thought it up on their own and finalized it without checking with me – working with big stubborn companies can
be very difficult at times! (If you think that's
bad, you should see the original cover design that the publisher mocked
up – I would be so embarrassed if it came out like that!) Even though
working with them was hard at times, they did an awesome job
distributing my book and getting it into bookstores all over the USA,
Canada, and even overseas! My
book is sold everywhere. Seriously, everywhere! It's amazing! I even
saw it for sale at different places I visited overseas! Again, I can go
on for days talking about the making of this book, and
the guerilla marketing tactics I employed to promote it, but we'll
leave
that for later too.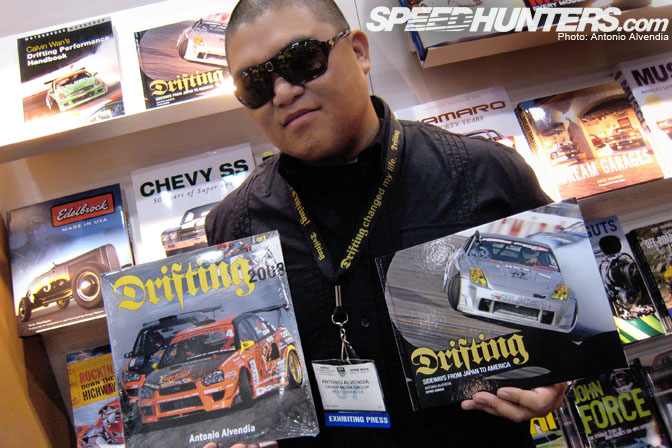 Some of you may recognize the slogan, "Drifting Changed My
Life." This was a slogan I came up with when I was promoting my book. I made
t-shirts and stickers and lanyards with this slogan, and even to this day, I still
see people rocking the shirts at drifting events. I love the saying "Drifting Changed My Life," because
it's so very personal to me (and many of my friends). Drifting really did
change our lives. If it weren't for drifting, I'd probably be working a crappy
desk job all day long, instead of living out my dreams, chasing drifting and my
favorite cars all over the globe.
Even though I didn't realize it at the time I
was working on it, when my book on drifting finally was released for everyone to see, it would really help my career
as a commercial photographer and automotive journalist. It made me and my unique "area of expertise" visible to a
whole lot of people that I probably would have never met – like the people at NBC
Universal and EA Games!
I've been fortunate enough to have been given the
opportunity to work with EA Games as a consultant since last year, when I was
contacted for the "Birth of Pro Street" documentary film, which was aired in
the USA on Spike TV, and continues to air in Europe on Motors TV – very cool!
This is when I first met and became friends with Rod Chong, who directed the
film! If you haven't had the chance to watch it yet, make sure you go to the
Need for Speed website to have a look!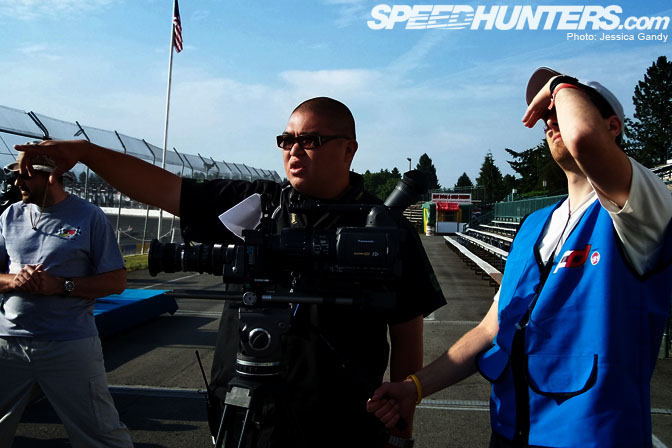 The "Birth of Pro Street" documentary film was such a fun and interesting
project to work on – and it brought together many of the people you see that are
involved in the Speedhunters project today. I've been doing work with Rod and corporate people at EA on the Speedhunters project even before it had a name. We spoke on the
phone and via email almost every day for several months, brainstorming ideas
for the site, like what the site should be and who should be involved.
It was fun
working with Rod and putting all the pieces together, like who the best
members of the team would
be, from the driver side and the editorial side! I honestly think we
have the best team we could ask for, and I'm so happy that the site is
finally live for all to see – we work hard, day in and day out on it,
so I'm
extremely proud of this project, and of course, I'm very proud to be a
Speedhunter.
After all, being a Speedhunter is the coolest job in the world, don't you think?
-Antonio Alvendia
Drifting: Sideways from Japan to America
Cipher Garage Official Merchandise