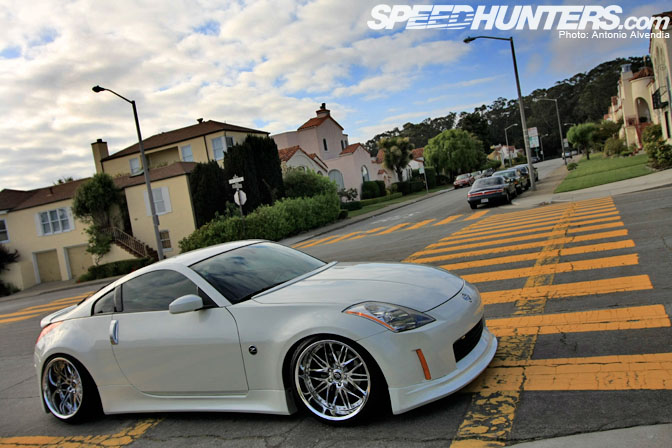 Most normal people in the USA spent Memorial Weekend with their families; barbecueing at the park, or hanging out at the beach or something. Not me. Even though I was invited to a bbq/party at San Francisco's Baker Beach area, I wasn't able to attend because I was doing photo shoots of cars with aggressive stances.
I decided to cruise around San Francisco for an afternoon with Prashant Patel from the EXE Life website. Prashant is the owner of this daily driven white Z33 350Z. That's right, I said daily driven! Don't be scared!
Just look at the fat lips on those wheels! Prashant's 19-inch Weds Borphes wheels are actually negative offset! With fitment like that, he needs to be rocking a Cipher Garage shirt with the "Offset is Everything" slogan – the original! Or even a Cipher Garage "Offset is Everything" license plate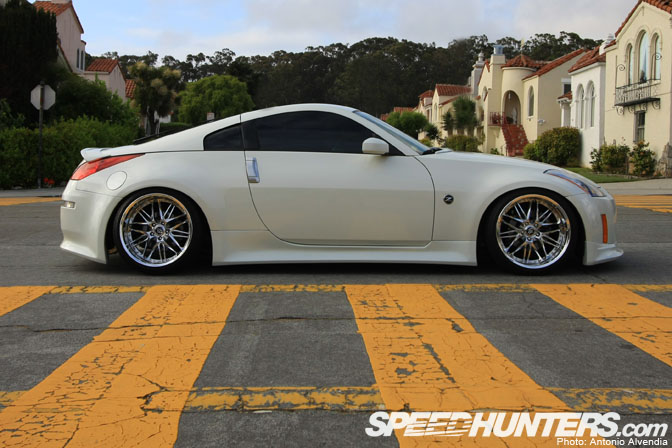 Abbey Road revisited. With a 350Z! The Vertex aero looks so clean and classy on the 350Z; it's definitely one of my favorite aero kits for the 350. I also love the front chin spoiler and rear hatch lip spoiler.
Since Prashant does actually daily drive this car, he keeps the expensive-but-worth-it Vertex aero clean with a customized Universal Air Suspension system and customized suspension arms. The ability to raise the car when you approach steep driveways and lower it back down when you're cruising on nice roads is a feature which allows a person to drive a car like this in real life, even in a city with steep uphill and downhill streets, like San Francisco!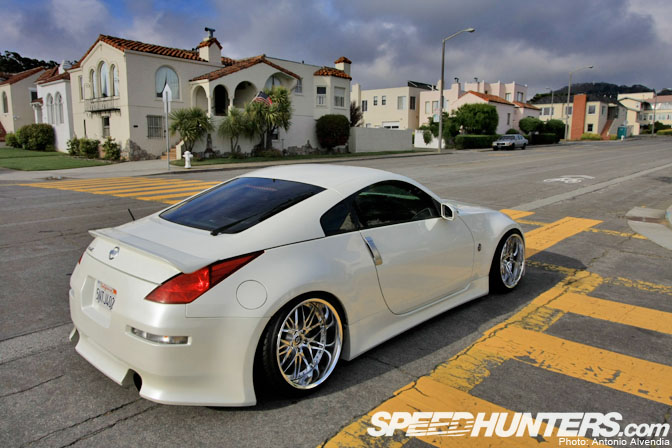 Super fat lip rear wheels! I love how they look so much, it almost makes me forget that he needs to put a better exhaust on his car. Okay, maybe I didn't forget. Sorry.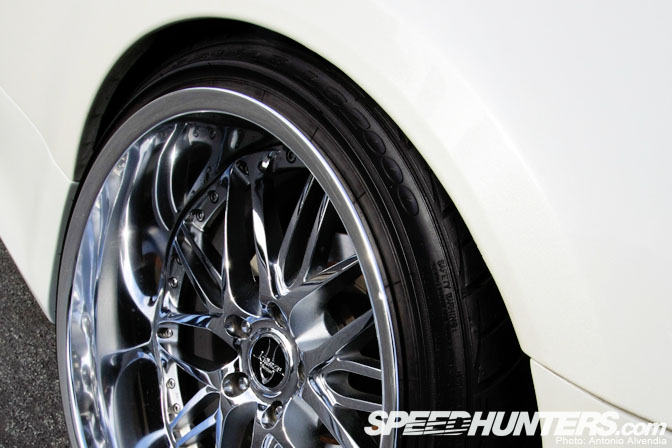 If you can stretch a 275/30/ZR19 tire, you are definitely cool in my book. And even cooler if you're doing it under stock fenders. Respect!
-Antonio Alvendia
(PS: Big thanks to Prashant for letting me borrow his Canon digital SLR for the shoot!)