Walking around the pit area at England's Donington Park Circuit, I
searched and searched for that one particular AE86. I had seen pictures
of it on the internet. Painted red in some pictures, green in others.
It had some aggressive looking RS Watanabe wheels… 9J width maybe?
It
was from Team Night Spirit, and it was nowhere to be found. I probably
should have hit up the owner on Club4AG prior to our trip to the UK.
Unfortunately I didnt – we were too pressed for time, and too busy
making preparations for this new Speedhunters website, and setting up
the itinerary for our trip!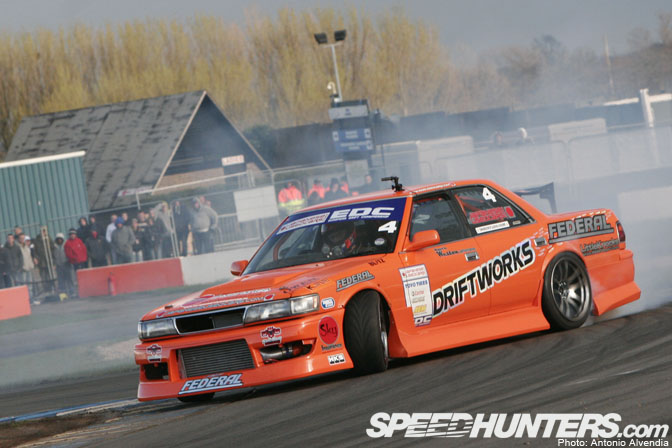 However, once I walked through some of the pit garages, I came across this bright orange Toyota Chaser. It was a car from the JZX81 chassis family… one of my favorite types of Toyotas for drifting. Very popular in the late 1990s Japanese drifting scene, the "hachi-ichi," as it's commonly called, came in three variations – Cresta, Mark II (my personal favorite), and the Chaser.
So imagine my surprise when I spotted this bright orange Chaser, done up to the hilt with a nice, low, aggressive, fashionable BN Sports aero kit… front mount intercooler, and good offset 18x9J and 10J wheels on it! This car had an awesome style to it… it looked similar to cars I had seen on one of my many trips to document drifting in Japan. It had the stance and the aero. Hell, it even had the driver! This car was awesome – it was certainly my favorite car in the whole EDC Round 1 competition. I just loved how aggressive it looked, and how exciting it looked as it maneuvered its way through the track, with big smoke trailing from the rear fenderwells.
Another thing… on the rear window, I spotted one of those "Night Spirit Drift Family" stickers that I had seen previously, on internet photos of the aforementioned AE86. These two cars must have come from the same garage, or at least the same crew! Whatever the case may be I love their style. What a great family to be a part of. A drift family… comprised of friends with similar aggressive style.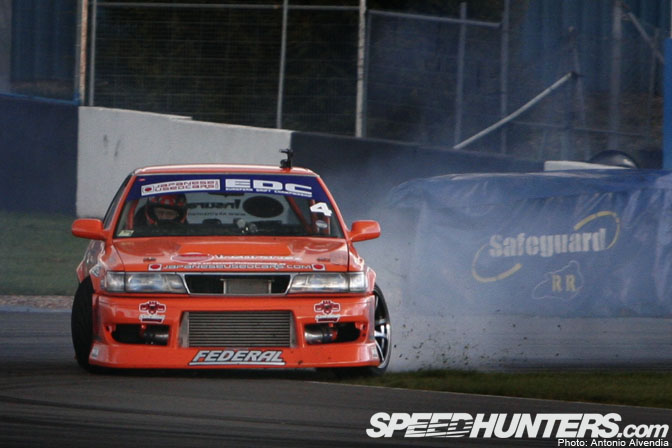 Further investigating led me to find out that this orange Chaser that intrigued me belonged to Ben Brokesmith, or "Bonbon" as he is more commonly called in the ranks of the EDC drivers.
Bonbon's Driftworks JZX81 has a pretty developed engine setup. Powered by a Toyota 1JZ-GTE engine, modified with HKS 256 degree cams, adjustable cam gears,big injectors,  and an Apex Power FC ECU. It also has a full custom exhaust piping and intercooler setup, which uses a GTR intercooler and a Garrett GT35/40R turbo.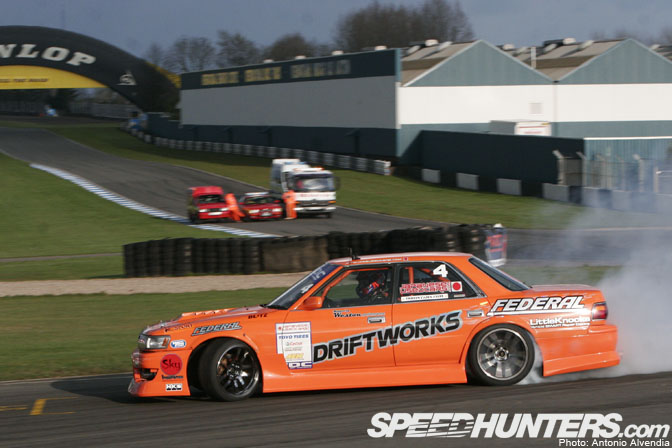 One thing that was surprising to me is that I liked his wheels alot – and why not? They were optimally sized for his car, and very aggressive looking. But here's the catch… they're made by Rota. What??? If I admit I like the wheels, my friends will never let me hear the end of it (Jay aka DropJay from JDM Ego). Let the flaming begin! I dig his wheels. Rota Boost in 18x9J front and 18x10J rear, wrapped with Federal tires: 245/35/18 front and 265/35/18 rear. Seriously, I know Jay is going to say something about the wheels next time he sees me.
Whatever Jay. I think Bonbon's car looks awesome. Best styled car, in my opinion, at EDC Round 1.
-Antonio Alvendia