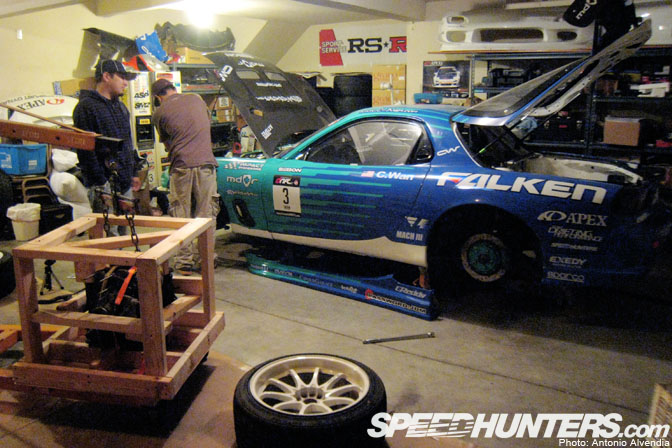 On the night before the Motoring J Style show in Northern California, my friend Tobin and I drove from Los Angeles to Calvin Wan's house in San Francisco. When we arrived at Calvin's house around 3:00am, we were surprised when we saw the garage lights on, and Calvin greeted us at the garage door, wearing dirty mechanic's gloves and his signature SF hat. 
He was preparing to ship a rotary engine out to his engine builder, but first he had to play the role of a carpenter, and build a wooden crate for it. That's skills! He must watch alot of Tool Time!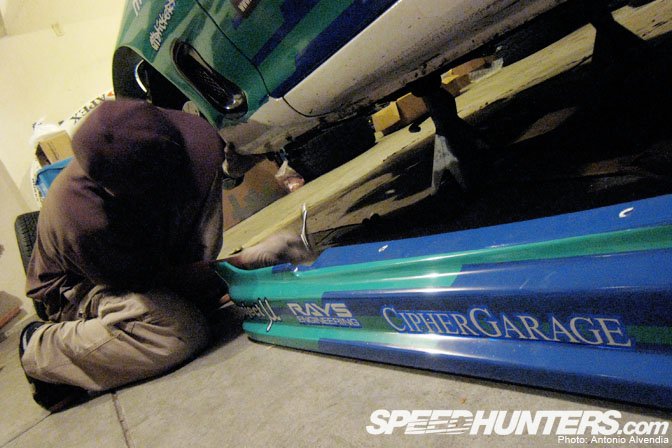 Even though his title sponsor, Falken Tires, would not have an official
presence at the Motoring J Style event, since Calvin was judging the
drifting competition, he decided to bring his personally owned FD3S RX7
out to the show to promote all his sponsors – he even made time to
squeeze in a few runs on the track! Even though the Falken Motorsports
crew members weren't around to help prepare the car, Calvin always
strives to maintain a professional image for his sponsors, even if he
has to get things done on his own. Now that's being committed to your sponsors!
Some of you might not know that the car you see in this garage is actually his personally owned FD3S, which is actually painted solid white. However, since Calvin's new Formula D competition car, a convertible 350Z, still hasn't been completed by the race car builder in North Carolina, Calvin had to use his own personal car for Formula D competition. To prove his commitment to his team and sponsors, Calvin had his longtime friend, Jay Lapid from Graphtech Signworks, print out the signature blue and teal Falken Motorsports livery onto large sheets of adhesive vinyl. Calvin tells us it took him 30 HOURS to wrap the entire FD (with the help of friends of course) in the Falken scheme without air bubbles, rips, or tears in the vinyl. In fact, most people who touch the car think that the blue and teal is actually painted on! It looks perfect!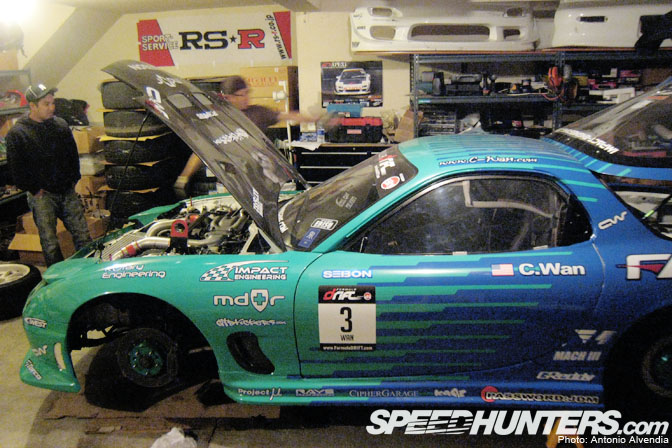 This is what a garage of an ideal car enthusiast should look like. Extra body pieces (the white bumpers on top are the Vertex pieces from the A'pex/Imamura D1 car), stacks of tires and wheels, nice big toolbox, organized shelves, and a cool car! Good job Calvin.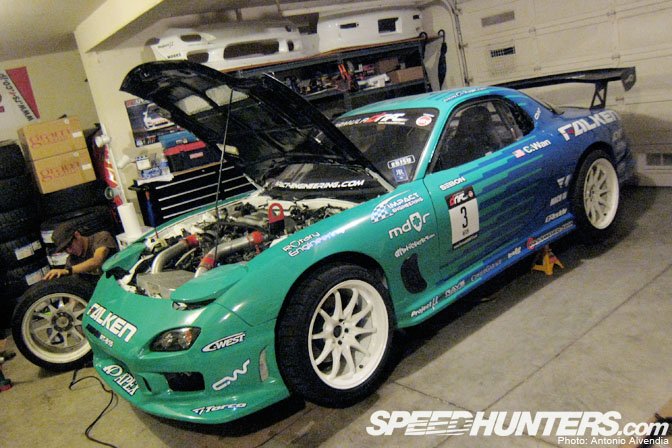 Here's Calvin cleaning the brake dust and tire particles off his white Volk CE28 wheels to make the car look professional and presentable at the next day's event – by the way, these are the same old CE28 wheels used on his Falken Motorsports Infiniti G35! They look cool, but *ahem* I think it's time for him to get some new wheels, don't you?
-Antonio Alvendia